Should investors look at trade and economic fundamentals rather than Washington noise?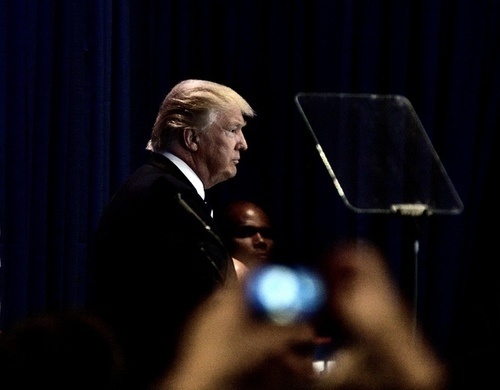 Markets aren't reacting to Trump's impeachment hearings and in all likelihood, they won't.
That's the word from Sadiq Adatia, chief investment officer at Sun Life Global Investments. He thinks that Trump isn't likely to lose power over the Ukraine scandal, even if only due to a Republican senate majority. Markets may even see a bump if this ends in the US President's favour. Adatia's take is that markets have almost become "Trump immune", largely ignoring his latest tweet or tirade and focusing instead on strong overall economic performance. That doesn't mean he's not keeping a close eye on affairs down south, though.
"Trump is the master of distraction," Adatia told WP, "when things aren't going the way he anticipates, who knows what he'll do?
"One thing that may have been positive of the whole impeachment situation was simply the fact that all of a sudden there was some positivity coming out of global trade because he wanted to deflect a little bit of the impeachment with something positive. However, as he's seen the chances of him getting impeached are very low, you see a tougher stance on global trade again right now. That might flop a little bit depending on how the hearings are going."
Adatia and his team at Sun Life GI are watching for any movement on trade. That's where Trump's behaviour will have the furthest and deepest market impact. Right now he sees positive progress in the first stages of a phase-one deal, with China buying more US agricultural goods. A long-term fundamental deal might take time, but according to Adatia, China sees a chance to strike a deal with Trump ahead of the 2020 election. The President needs a win before that election, and he might give up more to declare victory in the trade war.
"The markets are actually really just focusing a lot on fundamentals," Adatia explained. "They're more interested on global trade and industry, and really not even paying any attention to what's going on with the impeachment proceedings."
In Adatia's eyes, the markets have learned to ignore most of the noise coming from the White House. In the first few months of the administration, markets would jump or dip based on a tweet. Now they're immune, as if those first few months inoculated traders against speculating based on what Trump might do. Until concrete news comes from Washington, events like the impeachment are treated like a distraction.
Adatia prepares for all eventualities, though, and he's mapped out three scenarios. In two, Trump keeps power and the markets rally around him. In one, he loses power and markets might dip a touch, but a Pence administration is still Republican, which markets seem to like.
"When you think about Trump's scorecard, if you just think of it from a market perspective, there's a check mark in low unemployment, right, there's a check mark on market because they're all record levels. There's a check mark on consumer confidence, which is quite high," Adatia said, though a positive economic performance might not save the President in 2020.
"The market is less worried generally about social stuff. And that's where obviously he's got the Xs all over the page. The voters will decide whether they vote on their pocketbooks and financial situations or their social conscience."