Nick Shinder and Thierry Tremblay's complementary skill sets have helped them build a successful practice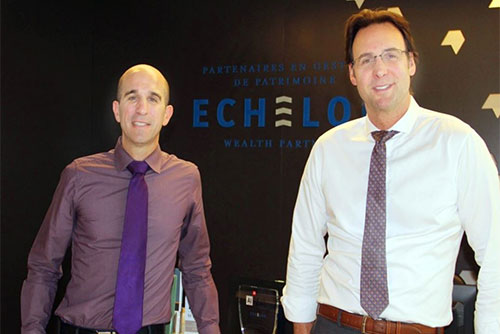 In today's wealth management industry, no advisor can do everything on their own. To accomplish more for clients, they need to surround themselves with talented individuals with different skill sets. That is exactly what Nick Shinder and Thierry Tremblay of the Shinder Tremblay Group at Echelon Wealth Partners have done.
The two men had very different starts in the business. Shinder grew up around the industry, with a father who was a chartered accountant, and after graduating with a bachelor of commerce degree in accounting, was poised to follow in his footsteps. At 23, Tremblay opened his own restaurant and soon became the president of the merchants' association of Park Avenue, a busy commercial street in Montreal. Both eventually realized the paths they were on weren't for them and found themselves working together at Canaccord Genuity.
"While at Canaccord, I had an opportunity to present my services to an accounting firm, and Nick said, 'Why don't you pitch them on a tax strategy?'" Tremblay recalls. "So that's what we did, together. We started working on those new joint clients and eventually combined our businesses in 2003. We have been growing ever since."
The pair's different backgrounds and skills have led to different roles at the practice. "I focus on macro analysis and asset allocation, determining how much we allocate towards fixed income, equities, alternative investments and cash," says Tremblay, who earned an MBA in corporate finance after his restaurant days. "We run two multi-factor portfolios on our custom platform called PADIS. The aim is less draw-down than the TSX and S&P 500. The long-term goal is beating the benchmark over a full business cycle. We recognize that we can't do everything ourselves and will outsource when we need."
Meanwhile, Shinder, who went on to earn a CIM certification, focuses on "thinking beyond the portfolio and looking for solutions. One of my main focuses is naturally on tax mitigation strategies. Also, if we determine there is a need for a specialized external manager, I meet with the potential managers and then we determine as a team if there is a fit."
In addition to asset management, Shinder and Tremblay put an emphasis on financial planning and corporate services. "We pay attention to the risks on foreign exchange, provide cash and risk management services for companies and individuals," Shinder says. "We manage clients' assets, tailor smart withdrawal plans, and help clients define their life goals and manage their retirement funds."
The duo points out that the majority of their clients are entrepreneurs, business owners and professionals. "The corporate service side began two years ago when a client, whose business ships vehicles to the US, needed to convert US dollars," Tremblay says. "We started with spot transactions and built it up, expanding our services eventually to include multiple risk management strategies."
While Tremblay and Shinder have encountered their fair share of challenges, including industry consolidation and ever-changing regulations, their biggest has been transferring the business from a transactional to a discretionary model. "After making the change, our clients have trusted us even more with their investments," Tremblay says.
To provide their high-level services, Shinder and Tremblay rely on the great team around them. "We have a team of professionals that help us with this," Shinder says. "We have a financial planner from Chevron, an affiliate of Echelon, and a great group for operations. We would never be able to do it all ourselves. We have a great relationship with our in-house and outsourced professionals."
Moving forward, Shinder and Tremblay would like to help more people and see their PADIS platform distributed on a larger scale. In addition, they want to focus on getting to know their clients on a deeper level.
"By continually educating ourselves and sharing our knowledge with our clients, we aim to add more value and create long-term relationships," Shinder says. "I think our goal is to know our clients better because the more info we have, the better solutions we can provide."