'Bionic' advisors of the future will operate on highly specialized wealthtech platforms, Q Wealth reveals why theirs is designed specially for independent Portfolio Managers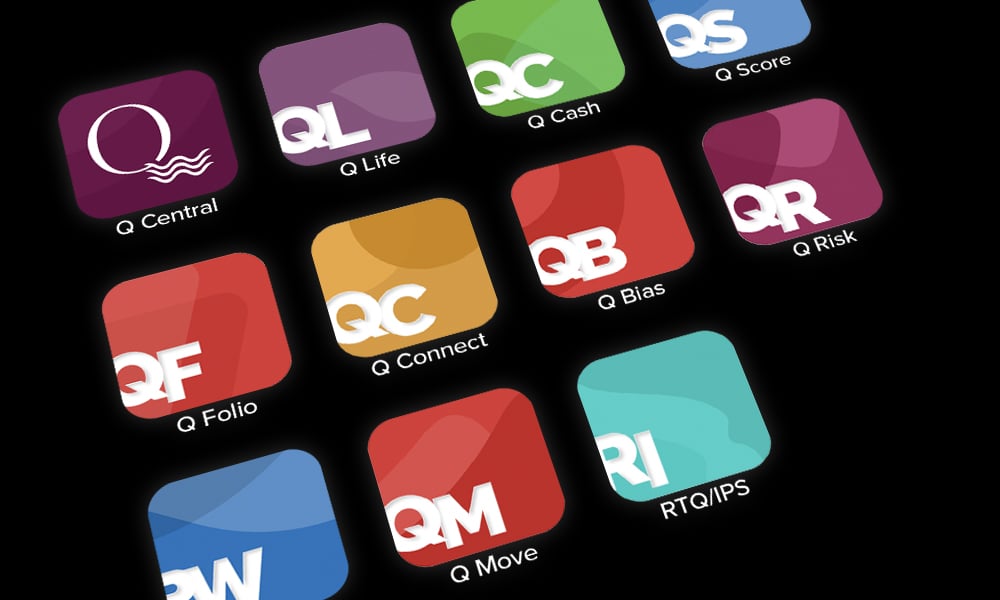 Having the right technology platform is fast becoming an all-or-nothing proposition for advisors. Do you want to truly modernize your practice, or are you content with adding to your "Franken-stack" assembly of disparate software systems?
That's the question posed by Jared Rabinowitz, executive and founding partner of Q Wealth, who believes the decision is clear-cut – simply adding new software to your legacy systems actually creates more work. Instead, Q Wealth Partners created Q-Suite - an Apple-like ecosystem that's designed purely for portfolio managers and connects everything on a purpose-built data foundation.
"There's no integration issues because everything talks seamlessly to each other," explained Clive Cholerton, Executive Partner at Q Wealth. "We've got the holy trinity of being able to connect the financial accounts, including account aggregation, to the financial planning engine, CRM and communications. And it's all real-time."
Q Wealth offers a partnership for portfolio managers and independent advisors, and it believes that prospective partners, having likely already made one completely lateral dealer change in their career, only want to move again if it will truly transform and future-proof their practice. "Only then will the effort of learning new systems and ways of working really pay dividends" adds Cholerton.
As well as attracting existing portfolio managers, Q Wealth has seen an influx of MFDA and IIROC advisors who want to join the PM world.
"Originally we thought only PMs would join us, but it seems everyone wants to get out of the SROs and into this space. We help them put together the right transition plan and team to make the leap," Rabinowitz says, "and from there we have the luxury of a streamlined business model where we're not trying to be everything to everyone. This has allowed us to craft something truly differentiated from a technology standpoint from any dealer in Canada – and, quite frankly, the world."
Advisors making the switch to Q Wealth, envisage not just where their practice is today, but where they want it to be in 10 years. Rabinowitz says advisors must think more about their long-term philosophy and make very strategic decisions.
"When it comes to technology, don't underestimate the pace or magnitude of change," he says. "If you don't make the right choices today, you won't be in a position of strength if you have to make a dealer change in 5 years time to get with a firm that can help you compete. Meanwhile our advisors are looking to us to elevate their practice and their client experience - to create the business structure, support environment, systems, and efficiencies to 3-4x their client base. That's what really moves the needle on valuation. Stock in the firm only takes you so far, you have to grow your practice also."
Q Wealth's integrated suite connect systems of record (like custodial data) to systems of engagement (like CRM and digital communications). That means advisors can take a call from a client anytime, and be able to discuss whatever is on the client's mind with everything at their fingertips – usually just 1 click away - in Q-Central, the platform's advisor environment.
"An interactive or digital component to client experience is table stakes," Rabinowitz says. "At this point, there's nothing innovative about that at all. Fundamentally, we're trying to shift the role of the advisor from being passive and reactive to being proactive and able to anticipate the needs of their client. Only technology, beautifully architected to enhance the capabilities of a team, can accomplish that. We've changed the landscape with gamified elements like our client discovery systems that help advisors uncover values and goals, while using this information to build the financial plan in real time. We also believe that our financial plans are living, breathing things that are the heart of the relationship with the client."
Cholerton adds: "People think – or have been conditioned to think – their life should be about goals they want to accomplish, but that's not what actually makes them happy. The reality is that there is only the journey, and our advisors help clients live the life they want to be living – not just after age 65, but every single day." He says advisors should consider whether their existing platform makes their clients' lives better.
To deliver on that proposition, advisors need clean, insightful data. From there, they can provide personalized touch points that make the client feel special. Rabinowitz says knowing your client shouldn't be something advisors have to do to satisfy regulators, but rather a vital part in becoming the most important advisor to a family across multiple generations. The right tech platform allows advisors to do that at scale, efficiently and cost-effectively.
Q Wealth also runs an advisor success department to help integrate the technology into Partners' practices. The firm understands the regulatory and compliance elements, unlike generalist outside vendors, who often try to be different things to different people in different industries and prioritize sales over actual product delivery and support.
"We realized we needed to control the data, integration, and interface layers end-to-end," Rabinowitz says. "As a firm, if you don't do that, you will always be stuck spinning your wheels and blaming your vendors for it. Advisors get tired of endless excuses. If you give them some new tech toys, that don't interact, that's actually more work for them. They're no longer interested in doing things piecemeal. We're able to create technology that's completely purpose-built. We always know the problem we're solving for when we create the next feature – that's a fundamental difference between us and wealthtech providers."
The Q Wealth technology works seamlessly with their department services – like marketing, or the trade desk, or mid-office operations. Throughout the organization, technology is aimed at enhancing workflows and the advisor/client interaction – with the ultimate goal being to optimize the staff's capabilities, and take client experience to the next level. "We are a true 360 degree platform for advisor success, and these are still early days."