Fred Pye, president and CEO of 3iQ, saw the opportunity in Bitcoin five years ago. Today, his hard work has come to fruition as his firm celebrates the launch of Canada's first Bitcoin fund on the TSX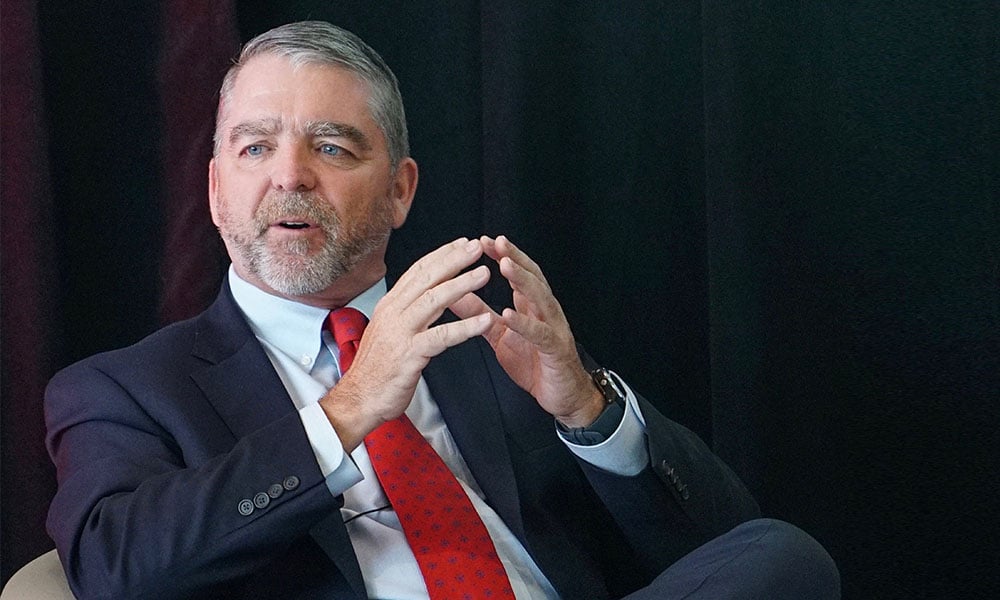 April marked a milestone for crypto­currency investors in Canada as 3iQ success­fully launched The Bitcoin Fund (QBTC.U), the first of its kind, on the TSX. For 3iQ president and CEO Fred Pye, it was the culmination of five years of hard work, but just the latest accomplishment in a long career in the financial industry.
"My interest in the industry was pretty simple – my best friend's father was the president of Guardian Trust," Pye says. "He always taught us to not take no for an answer, be logical, courteous and stern on your belief of what is right."
After graduating from Concordia University with an MBA in economics, Pye joined Guardian Trust in 1983. During his time there, one achievement foreshadowed his latest triumph. "At Guardian Trust, we listed gold, silver and platinum certificates on the Montreal Stock Exchange in 1986," he recalls. "Now, 34 years later, I have done the same thing with 'digital gold.'"
After leaving Guardian Trust, Pye moved on to Fidelity Investments during its early days, which led to a career highlight. "I was at Fidelity from 1989 to 1995," he says. "We took the company from eight employees and $80 million in assets, to 450 employees and $7.5 billion in assets."
The road to a Bitcoin fund
Fidelity might have been a high point, but it was hardly the end of Pye's contributions to the industry. He formed @rgentum Management & Research, where he ran the first quantitative money management structure in Canada and created the first long/short mutual fund the country had seen. Throughout the early 2000s, Pye held numerous positions, leveraging his expertise as a portfolio manager. That brought him to Landry Investment Management in 2012, which led to the creation of 3iQ.
"3iQ was originally created to distribute product for Landry, including a multi-asset momentum portfolio," Pye says. "We were running that portfolio for Horizons ETFs. Everything we were managing was correlated. Most managers are on a quest to find a non-correlated asset class. At the time, Bitcoin was around $300, so I was a bit apprehensive because it had gone up a lot. In 2014, I wanted to put Bitcoin in the fund, everyone thought I was crazy, so I went out and began this quest to list Bitcoin."
The quest would become the biggest challenge of Pye's career, encompassing five years and millions of dollars. The original prospectus for 3iQ's Bitcoin fund was filed in March 2017. Pye and his team expected it to be approved by June, but they ran into a roadblock when the OSC put terms and conditions on their firm to manage digital assets. They needed to obtain permission, which took another year.
During that time, Bitcoin also went on a run, but Pye was forced to start the process again in 2018. The OSC had undergone its own changes, and a new management team wanted to understand the process from square one. Meanwhile, Bitcoin collapsed, and 3iQ's prospectus was rejected. The firm obtained a formal rejection and challenged the ruling in a public hearing. In October 2019, 3iQ won its case; on April 9, 2020, The Bitcoin Fund was launched on the TSX.
"This really is the pinnacle of my career," said Pye. "I am 60 this year, and it's great to have it listed. It was a full team effort. We had everything thrown at us along the way. I am thrilled for our team and everyone who worked on parts along the way."
Crypto advocacy
Pye continues to see great potential for Bitcoin. While it's often misunderstood, Pye says it's simply an evolution of the internet.
"At my age, you want something that people are not invested in yet," he explains. "Sure, Warren Buffett can afford to pay $100K to get in later, but most average investors can't. All this is is access to secured internet you pay for. Miners get paid for creating newly minted Bitcoin; users pay for their transaction. When people come around and realize it is just the evolution – not fake money, but a real thing – more people will invest in it."
He adds that one of the most common misconceptions revolves around not being able to spend Bitcoin everywhere, but Pye stresses that you would never spend your store of wealth. He urges investors to look deeper at the blockchain technology that allows for secure transactions, which is where he sees the future of digital currency. Pye is also the co-founder of Stablecorp, which produced Canada's first official digital dollar. It's these stablecoins, which sit on something like the Bitcoin blockchain, that he believes will be the currency of the future.
Establishing that stablecoin is one of Pye's goals. However, his current focus is on spreading The Bitcoin Fund around the world. "The future of this is we now have a regulated fund on a regulated exchange, so I can take it and get co-listing arrangements," he says. "I want this Bitcoin fund in London, Singapore and Hong Kong. In May, we are looking to list it on the exchange in Gibraltar."
In addition, he sees 3iQ becoming a leader and advocate for blockchain and cryptocurrency here at home. "We want this company to be big enough to support blockchain in Canada," he says. "The blockchain relies on venture capital, of which there is so little in Canada. It's one of my biggest pet peeves – Canadian companies invest in US companies and leave little for Canadian opportunities. We need to scale our partnerships to make a difference – we can't waste the opportunity to help the sector in Canada."