Nader Hamid tells WPC how he and his team are helping clients make good decisions about their financial futures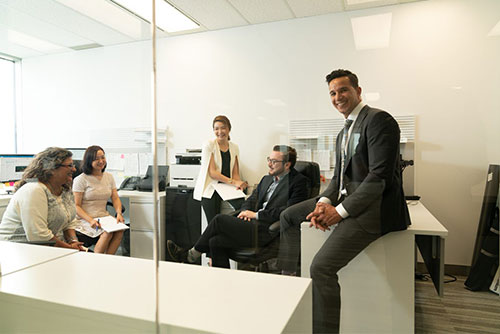 In more than 17 years in wealth management, Nader Hamid has done and learned a lot. He has watched the industry transform, stayed on top of trends, incorporated technology and continued his own personal education. Now, thanks to his experiences, he continues to help his clients make good decisions about their finances by focusing on educating them, whether during meetings, seminars, newsletters or blogs. 
A portfolio manager and director at Total Wealth Management Group [TWM], part of HollisWealth, a division of Industrial Alliance Securities, Hamid has always had a passion for investing and purchased his first stock at the age of 15. He began his career as an investment advisor in 2002 but felt limited in the role. He went on to earn his CIM certification and become a portfolio manager.
"To truly help people you need to be able to guide and direct all aspects of their financial lives – that's not just managing their investments," Hamid says. "Being a portfolio manager lets me implement advanced investing strategies."  
Hamid founded TWM in 2005; since then, he has developed a niche clientele of high-net-worth individuals looking for complete service solutions and portfolio management. While he has found success, he hasn't been able to do it alone. Hamid points to the strong team around him, who help him provide a high level of service to his clients.
"Everyone uses their unique abilities to maximize their potential and provide excellent service," he says. "I have a phenomenal partnership with portfolio managers Jean Henault, who has been a mentor to me, and Pascal Ricard, who is an associate." The three are keen followers of well-known investor Ray Dalio's principles, which helps them brainstorm and generate new ideas to improve client service.
Hamid also recognizes administrative services manager Vanita Batra, whom he calls the "backbone" of the practice, as well as Lily Yan and Tessa Wong for their administrative expertise, and Chelsea Parasuco and Olivier Jean, who specialise in research and portfolio management. 
Over the years, Hamid has watched his team grow within their own unique abilities. "It really allows me to focus on my passions and strengths, which are portfolio management, financial planning and client relationships," he says. "Being well surrounded by people who are specialists in other areas, that's been one of the reasons for our success." 
Hamid says his practice has remained agile and ahead of the curve, even with the major transformations that have happened in the industry since the business was established. 
"We have implemented and learned new technologies and adapted an evolving management approach as well," he says. "The huge amount of investment choices and information available has added a lot of complexity to the space. Our portfolios are now built by three portfolio managers, including myself, and several CFA analysts – that wasn't the case 10 years ago. There's been a lot of risk in recent market conditions, so building stability into a portfolio, combined with potential for growth, needs a lot more research, and competing viewpoints to come up with excellent solutions and strategies." 
Hamid sees his greatest business success as the long-standing relationships he has created with his clients. "It's amazing how I've seen them evolve throughout the years from parents to now grandparents, or small startups to major companies," he says.
Going forward, Hamid's goals include further developing his team, improving his practice's portfolio management offering and enhancing the client experience.
"We are now implementing state-of-the-art technologies that will help us reach this goal," he says. "We believe it will translate into better investment behaviours and increase help increase overall net worth. We want to help our clients to have peace of mind, to have the freedom to do more of the things they love and less of what they don't."