Throughout his career, HSBC Canada's Larry Tomei has been all about growth – and that focus has allowed him to build successful teams that excel at executing strategy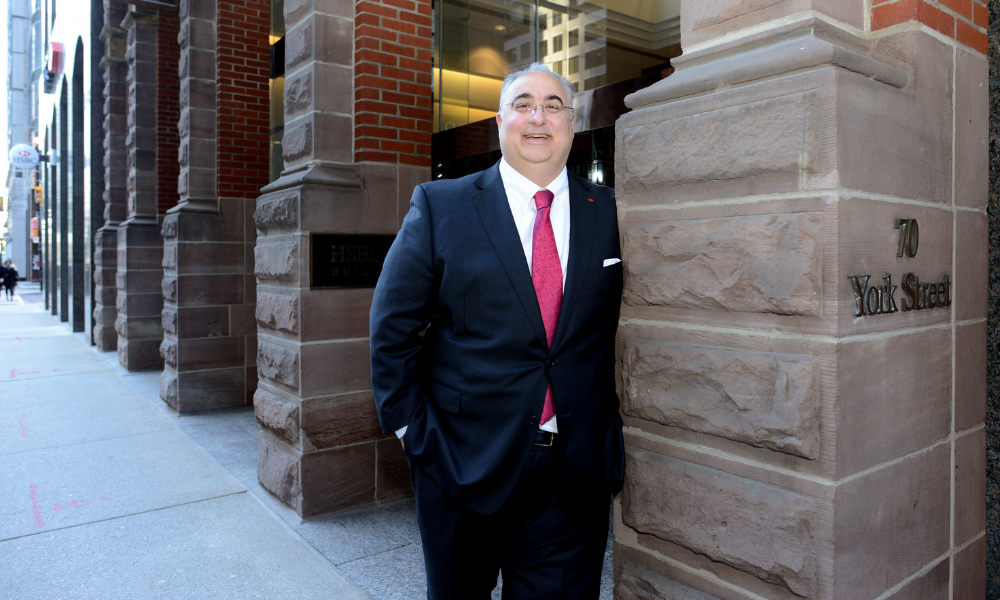 Whether it's a business, people or even the plants in his garden, Larry Tomei has always loved helping things grow. His passion has taken him to a leading role in the industry as executive vice-president and head of wealth and personal banking at HSBC Bank Canada, where he's focused on building HSBC's retail and wealth franchise in this country.
His desire to get involved in companies' growth began at York University's Schulich School of Business, where Tomei earned both bachelor's and master's degrees in business administration. "One day I went by the guidance office and saw a job posting for CIBC Securities," he recalls. "It was a product position with mutual funds. What was intriguing was that the mutual fund business was just beginning. It felt exciting – I thought, 'Wouldn't it be great to get into a business at its infancy and grow it?'"
Tomei applied for the job and got it. Starting as a product manager, he went on to hold increasingly senior positions, working his way up to lead CIBC's mutual fund business. From there, he moved to the bank's private investment counsel business, then spent a decade in various sales leadership roles before becoming SVP of national sales and service, responsible for leading the bank's national sales strategy. He was eventually appointed head of President's Choice Financial at CIBC before moving to HSBC in 2016.
"What attracted me to HSBC was its people culture, strong focus on clients and the opportunity to build on that strong foundation" he says. "The bank's global footprint allows us to serve clients with all of their needs in a way that other banks can't. HSBC is also the world's largest trade bank, so we can connect all of our clients to a world of possibilities and help them navigate their finances both in Canada and abroad."
Setting the standard
At HSBC, Tomei strives to lead by example. His vision for the business, coupled with his ability to inspire and transform, sparked massive growth from the get-go and made the bank's retail franchise a destination of choice for both clients and employees. Tomei leveraged his extensive experience in banking to drive transformational growth by sharpening client focus, launching new products and services, optimizing distribution channels, and fostering relationships – all while navigating adverse macroeconomic conditions.
He has been able to pursue his enthusiasm for diversity and inclusion at HSBC and currently serves as chair of the bank's D&I committee.
"We operate in 64 countries and territories, so it's important that we have that diversity of thought and people," Tomei says. "Diversity is built into our culture. Personally, that's always resonated with me. My background is Italian – my parents came to Canada over 50 years ago. I know firsthand the challenges faced by newcomers, which is why D&I has always been so important to me."
Throughout his career, Tomei has notched a string of impressive accomplishments. In 2010, he was named one of Canada's Top 40 under 40 by Caldwell Partners International. Last year, he won Report on Business' Best Executive Award, as well as a HERoes Women Role Model Award for his work in championing diversity and gender equality. Yet while Tomei says he's honoured by these individual awards, he believes they're really a reflection of the work of his team.
"When you look at what you've accomplished, it's never about one person – it's about the team," he says. "That's how I have always looked at it. For instance, my Report on Business award was won for the leadership during COVID, and I am so proud of that."
Tomei adds that HSBC's approach to the pandemic has been stakeholder-focused. "We made a commitment to protect our employees, to care for our clients and community," he says, "all the while keeping the bank running successfully."
The pandemic hasn't stopped Tomei from working on other important initiatives such as the Royal Canadian Legion's Poppy Campaign, which saw its annual fundraising efforts impacted by COVID-19.
"We are so proud of that partnership," Tomei says. "We were able to work with the Legion and design a contactless solution where people could tap the poppy box and make a contribution. That was really important to me. If you are Canadian, you understand the importance of the Legion and supporting those who serve today while remembering those who made the ultimate sacrifice to protect our country."
Prioritizing people
When it comes to current initiatives at the bank, there are many underway that Tomei is excited about. He notes that now more than ever, clients want to bank on their terms, so HSBC is transforming its branches into advice centres while recognizing that people are doing more online. In response, the bank is scaling up its digital capabilities in Canada and transforming its contact centres to incorporate more chat and email functionality to ensure that their clients receive timely advice and service. It has also launched remote specialists to provide expert advice on mortgages and small business needs. Finally, HSBC recently announced a partnership with Dominion Lending Centres, which will offer the bank's mortgage products.
"At the end of the day, we are here to serve our clients however they choose to engage with us – through our advice centres and remote specialists, our contact centres and digital platforms, and other alternative channels," he says.
To best serve those clients, Tomei believes that "our employees are the foundation of our bank, and we need to continue to invest in them … I think having the right strategy is incredibly important, but equally as important is making sure that you have the right people to execute it. The companies with a great strategy and great people will succeed. That means making sure people have a purpose to work and grow together. That means having a strategy as a roadmap then attracting, motivating and retaining great people. That is not an easy thing, but success always comes down to having the right team."