In many ways, the career of Sun Life's Oricia Smith has mirrored the trajectory of Canada's investment industry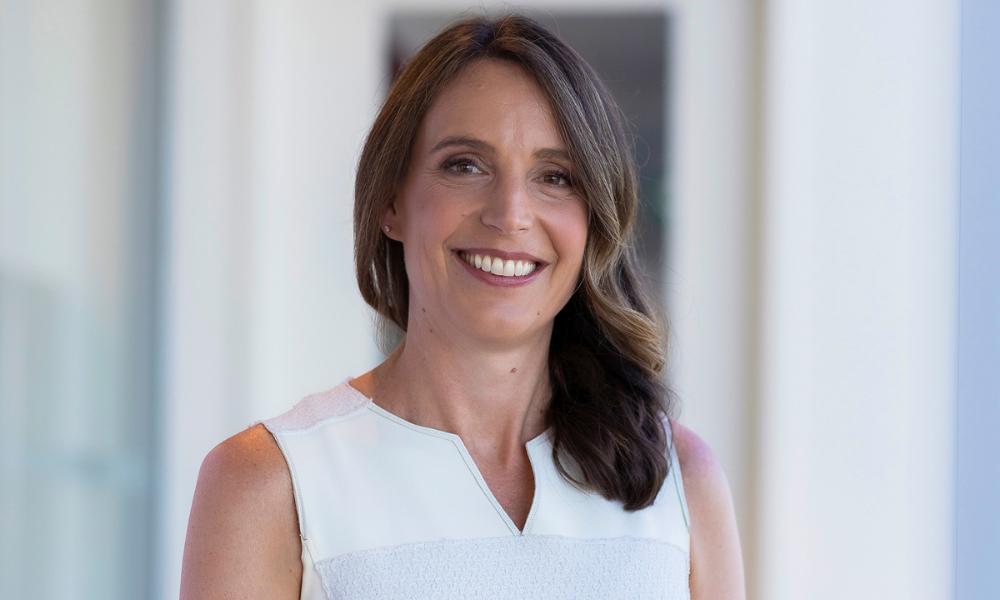 With nearly three decades of experience behind her, Oricia Smith has a good view of the overall arc of the Canadian investment business. And from where she sits, the wave of purpose engulfing the space today is like a macrocosm of her own professional path.
"We're seeing the industry move from money to meaning," according to Smith, who is President of Sun Life global Investments and Senior Vice President of Investment Solutions for Sun Life Canada. "I think it parallels my career. We started out focused on the money side, focused on trading and capital markets, and started shifting more toward meaning and the human side."
As a university student in the early '90s, Smith wasn't necessarily contemplating a career in financial services. But after seeing her brother go through the Canadian Securities Course, she decided to do it as well.
Her completion of that course, along with her understanding of computers, landed her a summer job at the Calgary Stock Exchange. While the exchange was transitioning to become more electronic, it still had a frenzied feel that might have been stressful and overwhelming to many – but not Smith.
"There was an energy there," she says. "The people I met had this drive and strong work ethic, and I loved to be surrounded by that. They were very supportive, too. I was one of the only females on the trading floor, if not the only one, but I always felt part of the bigger social environment that was there."
Over the next few years, Smith took on various roles in capital markets and investment banking. She relished the challenges she confronted during that time, as they honed both her technical knowledge and her capacity for creative problem-solving.
Eventually, Smith joined Invesco Canada, where she played a key strategic role in developing the North American institutional business. She also spent a lot of time in product development, creating funds geared toward both retail and institutional clients.
"I was part of the team that led the launch of the PowerShares ETF business in Canada," Smith says. "That was really exciting to get involved in. We also launched a global direct real estate fund for institu-tional clients in Canada, which was also the first product of its kind."
A seat at the table
As she moved up in her career, Smith started getting involved in women's leadership groups and mentoring women within the organization. She became part of the Invesco Women's Network (IWN), a global community of women at Invesco who come together once a year to form professional connections.
In addition to leading the Toronto chapter of the IWN Management Committee, Smith became an active leader and member of various organizations focused on helping advance female professionals, including the Women's Bond Club of New York and the Canadian chapter of Women in ETFs.
"I've learned that with the ability to form strong relationships, we can have a collective voice to really shape the business," she says. "I think a lot of females don't ask for help enough. It's not a sign of weakness. Many people are happy to help, and the outcome you get when you have others' perspective is better than what you'd get on your own."
Into the sun
After roughly 17 years at Invesco, Smith made the leap to Sun Life. She was attracted by the company's proud Canadian history, which stretches back more than 150 years, and its expansive footprint, which touches millions of individuals and thousands of companies around the world.
"I'd always been limited by what asset managers could offer," she explains. "The focus was primarily on investment returns and income generated. When I came to Sun Life, I felt a bit like a kid in a candy store. The scope of what we could offer was expo-nentially wider. We had that same suite of investment products, supported by some of the best asset managers globally, but we also had our Canadian multi-asset solutions team. Beyond that, we had products … like annuities, seg funds and GIAs."
With such a wide shelf, Smith says Sun Life can pull together and build more comprehensive financial solutions. That breadth lends itself well to an advice industry that's increasingly focused on holistic client service and financial security in retirement now that people are living longer.
Clients and advisors aren't the only stake-holders the company is mindful of. Sun Life has repeatedly declared its commitment to creating change by promoting and actively working to build diversity and inclusion within its organization. The company has also demonstrated its strong regard for employees by being among the first organiz ations in the Canadian financial industry to adopt a flexible work model.
Just over four years after she joined Sun Life, Smith became interim president of its retail investment management business, Sun Life Global Investments; a few months later, she was appointed to the role permanently. That was in April 2021, a momentous time that marked not just SLGI's 10-year anniver-sary, but also just over a year into the global COVID-19 crisis.

"I'm really proud of how, through the pandemic, we were able to focus on delivering continued strong risk-adjusted returns as an investment manager," Smith says. "We also listened to our advisors and pivoted to address priorities they needed help with."
What they heard, Smith says, is that Canadians' fears have expanded beyond just market volatility. Because of COVID-19, people are also experiencing stress from potential loss of employment, isolation from family and friends, burnout after nearly two years of remote work and homeschooling, and other types of uncertainty. To address this, Sun Life has rolled out a variety of digital tools, run retirement sentiment seminars, created a "COVID hub" for advisors to support their clients with tools and resources related to mental health, and enhanced its partnership with MFS Investment Management to offer more mutual fund solu-tions to advisors and investors.
Sun Life has also played an active leader-ship role in supporting female advisors in the industry and has established itself as a champion of sustainability, both in its corporate activities and through its invest-ment and group retirement saving solutions.
"When I first started, I was more in the capital markets side of the business," Smith says. "Now I'm focusing more on the investor and people side of the business. I'm thinking about how to help Canadians retire with dignity and build long-term wealth. At the same time, I want to help build a busi-ness that supports workers' mental health, does good in the world today and provides employment for the next generation."