Jonathan Needham, of TDAM, on the power of tech in your portfolio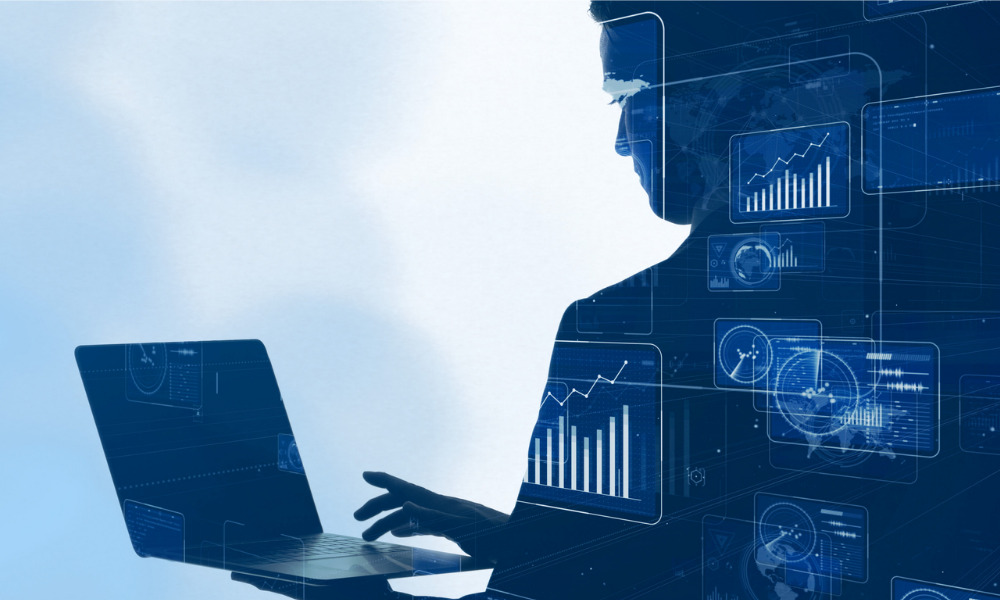 This article was produced in partnership with TD Asset Management.
The TD Global Technology Leaders Index ETF (TEC), launched in 2019 and the TD Global Technology Innovators Index ETF (TECI) that launched in late November of 2021 have quickly become the 'gold standard' for technology ETFs – explained Jonathan Needham, Vice President of ETF Distribution for Eastern Canada for TD Asset Management Inc. "TEC offers investors pure technology exposure to the trends of today, plus emerging themes and TECI takes it a step further by offering investors access to the technology trends of tomorrow."
The standalone benefits of these ETFs are clear – but how can they best be incorporated into a wider portfolio?
"From a portfolio construction perspective and as a Canadian investor," Needham outlines, "I always like to look a little bit south of the border. If a Canadian investor has a home bias and is overweight Canada, that means they are also underweight technology – and likely underweight technology quite significantly."
"In Canada, we have a lot of great energy and a lot of financials, alongside with a few tech names that have been great success stories, but obviously, you're going to be underrepresented in technology and may potentially miss out on some returns if you're not exposed to the broader market."
This is where both TEC and TECI can come into play as ideal investments – both in relation to the wider portfolio and to complement the dynamics of each other.
"Owning one or both of those ETFs is great for getting closer to market neutral weight to technology and to take advantage of the some of the strongest growth names," Needham says."
The advantage of owning both TEC and TECI comes through diversifying an investor's portfolio with both gigantic and up-and-coming technology-focused company names.
"With TEC you've got over 250 companies with top names like Apple, Microsoft, Amazon, Alphabet, Facebook/Meta, Visa, Adobe and so on," Needham explains. "These are all the names' people know and use on a daily basis. But the complementary [TECI] comes with capturing the innovators: Shopify, Square (Block Inc.), Snowflake … some of these companies that the millennial generation is even more familiar with and adopting at a much more accelerated pace. Also, when looking at the overlap1 of the two funds, it's only around 9% (as of December 31, 2021), which showcases the potential diversification benefits of owning both."
Video game companies fit neatly within the latter bracket. Seen as a mainstay of millennial leisure time for years, video games have long out earned both the music and movie industries combined – and recent high-profile acquisitions, like Microsoft's $68.7 billion buy-up of Activision Blizzard Inc., show that gaming is no longer a niche investment concern.
TECI stretches way beyond millennial pursuits, however. With online game platform Roblox, for instance, Needham highlights the kind of Gen-Z-focused companies that are making waves in the space.
"I have two daughters – and they play a whole lot of Roblox," he says. "As with a lot of the growth of the metaverse, a lot of this seems crazy to me: someone is going to buy clothes that they can wear on their virtual avatar? But trust me, my daughters have asked for [Roblox currency] on a regular basis. So there lies an example of a very large market capitalization company that you may want to have some exposure to through an ETF like ours."
It is, Needham pinpoints, something of a balancing act – whether investors choose to focus on current tech landscape giants, 'long-game' future prospects, or a carefully curated mixture of both.
"But ultimately, when I look at these two strategies, they're meant to complement one another. TEC is owning the technology of today, TECI owning the technology of tomorrow. If you own them in combination, then you've got a full basket of technology names."
1Overlap is calculated by adding up the lower percentage of all common holdings.
The information contained herein has been provided by TD Asset Management Inc. and is for information purposes only. The information has been drawn from sources believed to be reliable. The information does not provide financial, legal, tax or investment advice. Particular investment, tax, or trading strategies should be evaluated relative to each individual's objectives and risk tolerance.
Commissions, management fees and expenses all may be associated with investments in ETFs. Please read the prospectus and ETF Facts before investing. ETFs are not guaranteed, their values change frequently and past performance may not be repeated. ETF units are bought and sold at market price on a stock exchange and brokerage commissions will reduce returns
Certain statements in this document may contain forward-looking statements ("FLS") that are predictive in nature and may include words such as "expects", "anticipates", "intends", "believes", "estimates" and similar forward-looking expressions or negative versions thereof. FLS are based on current expectations and projections about future general economic, political and relevant market factors, such as interest and foreign exchange rates, equity and capital markets, the general business environment, assuming no changes to tax or other laws or government regulation or catastrophic events. Expectations and projections about future events are inherently subject to risks and uncertainties, which may be unforeseeable. Such expectations and projections may be incorrect in the future. FLS are not guarantees of future performance. Actual events could differ materially from those expressed or implied in any FLS. A number of important factors including those factors set out above can contribute to these digressions. You should avoid placing any reliance on FLS.
The TD Global Technology Leaders Index ETF and the TD Global Technology Innovators Index ETF ("TD ETFs") are not sponsored, promoted, sold or supported in any other manner by Solactive AG nor does Solactive AG offer any express or implicit guarantee or assurance either with regard to the results of using the Solactive Global Technology Leaders Index and the Solactive Global Technology Innovators Index (CA NTR) ("Indexes") and/or any trademark(s) associated with the Indexes or the price of the Indexes at any time or in any other respect. The Indexes is calculated and published by Solactive AG. Solactive AG uses its best efforts to ensure that the Indexes are calculated correctly.
TD ETFs are managed by TD Asset Management Inc., a wholly-owned subsidiary of The Toronto- Dominion Bank.
®The TD logo and other trademarks are the property of The Toronto-Dominion Bank or its subsidiaries.