'We'll spend less time on administration and more helping clients get where they want to be'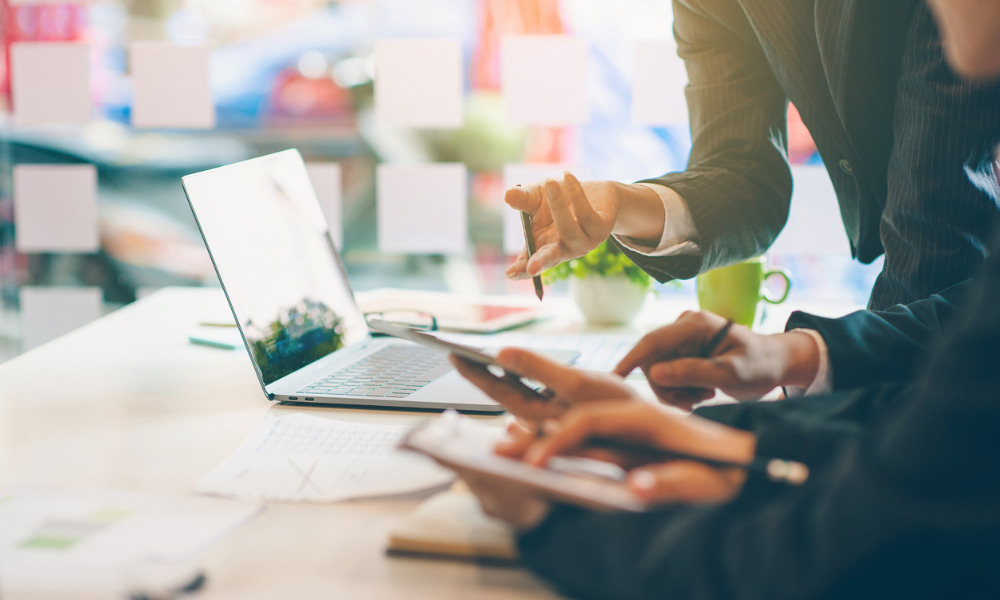 The field of wealth technology is becoming so refined that advisors will soon be able to deepen the personal aspect of their service, said one of the WP award winners who is already doing that.
"The technology innovations that have happened overseas resulted in more advisors, not fewer advisors, servicing fewer client households, on average, at lower overhead costs. That is the direction we're heading," said Jason Pereira, financial planner at Woodgate Financial in Toronto (pictured above, left). His team recently won the CI Global Asset Management Award for Holistic Advisory Team of the Year.
"That frees up the amount of time we have, which leads to basically replacing the time that we were doing the heavy lifting work with deeply personal work. So, the question remains: how do I use that time to enhance the relationships – and the value proposition that I have for clients?"
Pereira and his partner, James Collins (above, right), already use that model. They recently added a third advisor, so have a team of seven that serves 240 households with thresholds of about $2.5 million. They have about $250 in assets under management. Their model means that each advisor has no more than 85 clients. They charge up front for their fees, but then provide a premium personalized service. Pereira said that means everything from developing their financial and investment plans to dealing with their investments, insurance, taxes and any other issues that their clients need managed.
"It's about helping people make the best version of their lives," said Pereira. "So, we start every relationship with a deep dive to learn everything about them. We make sure, before we make any recommendations, that we know who they are, what they want out of life, what they have, what they owe, what's coming to them, and where it's going to help them. We basically help them find the best version of their lives and put a plan in place to help them get there because everything else we do – every product, every decision – is really based around that."
Once they develop a financial plan, Woodgate's advisors meet with their clients to discuss each subject area so they can educate them and show how they arrived at their recommendations. That issue-by-issue approach allows them to help their clients implement their recommendations.
Pereira said their onboarding takes about seven weeks. Then, they do quarterly updates to ensure that everything is being implemented and check if there are any changes in their clients' lives. Every three years, or whenever there is a major change in their clients' lives, they update everything again.
"It's an ongoing consultation that continues over time," said Pereira, "but I'd like to get to the point where it's being updated in real time and there are new technologies in the market to help that."
Woodgate also provides its clients with everything from referrals for contractors, lawyers, and medical professionals to help buying big-ticket items, such as cars. They'll attend meetings with clients and even draw up their estate plans so they can just hand it over for a lawyer to legalize.
"By the time we talk to the lawyer, 90% of the work is done," said Pereira. "The documents and the statements and everything have been provided at the same time, and the lawyer just basically needs to take care of the legal work.
"So, it's really about delivering everything the industry is supposed to deliver in financial planning in an effective and deeply personal way that's really at the core, and then looking for ways that we can go beyond to help them self-actualize that best version of their lives."
Pereira noted that their model arose from the desire to service clients' needs. About 20% of its client base was exposed to U.S. taxes, so the firm built that knowledge. It then got into ESG investing and the more it looked at best practices in other countries, the more personalized they made their services. It's something they've been developing for15 years.
"Part of our desire from day one was to be more planning-centric. We wanted to be an ongoing advocate and you can't do that if your primary concern is about a sale and your compensation model does not align with the service and values that you're trying to bring to the client," he said.
He's excited about the advances that he sees coming in wealth technology that will mean that clients' files can eventually be automatically updated overnight, freeing up administrative resources for more financial advisor support for clients.
"All the heavy lifting that we do is being made faster and more digital, which is going to free up my time," he said. That doesn't mean advisors should serve more clients – but serve them more deeply.
"The real focus is going to be more on: how do I deal with the human behavioral side, and how do I help clients get past the behavioral issues they have that basically prevent them from succeeding? So, the behavioral coaching aspects are going to expand and so is the emerging field of financial therapy that's already expanding in the U.S. right now.
"So, where is the business going? Really, the focus on more automation is going to create more human face time. We're going to be able to create deeper relationships and more value. That's where it's going. We're going to be spending a lot less time on paperwork administration and more them figuring out ways to enhance our clients' lives and help them get to where they want to be."