Wealth industry leaders from Wellington-Altus and Mandeville Private Client discuss how their firms are balancing needs for safety, flexibility, and connection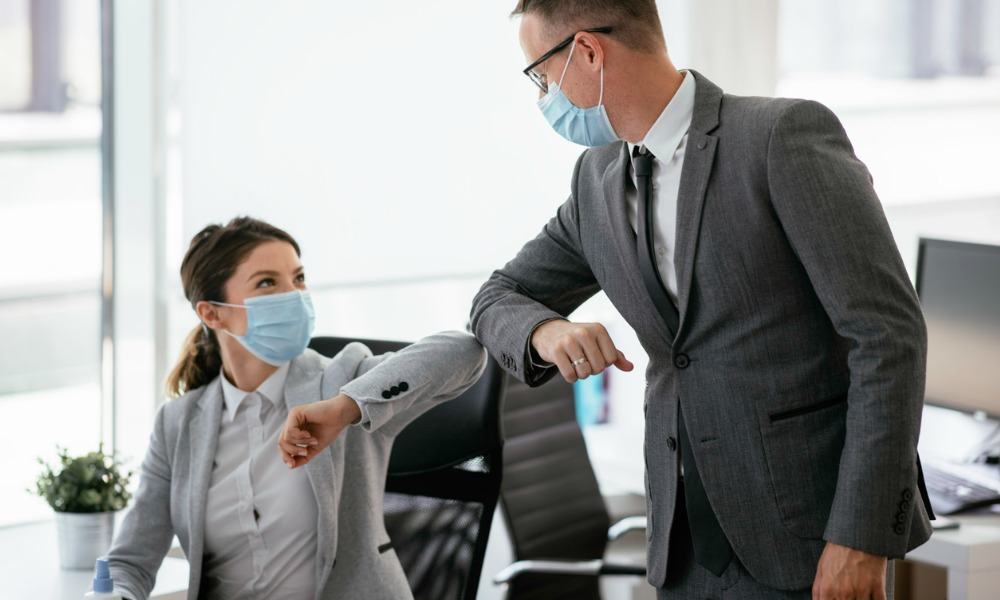 Given the mixed inflation outlook, irrational housing markets, and high debt levels supported by record-low interest rates, there's not a lot of reasons to have a confident outlook at the moment.
But if there's one thing Canadian households and wealth firms can hold on to, it's the fact that COVID-19 vaccinations are in full swing, and it's now a question of when, rather than if, it will be possible to move on from the history-making pandemic.
"We think the transition to a post-pandemic world will start in the fall and run through into the winter of '22," said Shaun Hauser, president and founder at Wellington-Altus. "From a management team perspective, we're planning like we're going to get through COVID but at the same time, we're very mindful that we're still in it."
A continuing digital connection
Throughout the pandemic, Hauser said, Wellington-Altus has operated without much disruption because of its early investments in technology. From the time it launched four and a half years ago, the firm has modelled its infrastructure to support a remote-work business model and minimized paper use through DocuSign, which has allowed the business to thrive amid the pandemic.
"We grew over $4 billion in 2021, and we're going to probably grow close to $6 billion in 2022," he said. "Those really come down to technological investments we made going on five years ago."
The same was true at Mandeville Private Client Inc. According to Frank Laferriere, the firm's COO, the pandemic was a "non-event" from an operational and client relationship lens, as its technology-based business model has allowed advisors to operate their practice flexibly for years before COVID-19 hit.
"Many of our advisors were out of the office two to three days a week already, and still servicing large practices," Laferriere said. "We've been doing e-signatures for almost seven years now, and we were also ahead of the curve on things like Zoom, WebEx, and FaceTime."
Faced with the threat of robo-advisors during the mid-2010s, advisors and financial services companies dismissed technology as a dehumanizing force. But like many other firms since then, Mandeville has taken the view that technology can enable richer, more meaningful relationships between advisors and their clients.
While Wellington-Altus is providing its employees and advisors the flexibility to work from anywhere, Hauser said a lot are choosing to show up at the firm's corporate office in Winnipeg and across its 30 different branches. That's being driven by a natural tendency among many investment advisors toward extroversion and human contact.
"While they've done a fantastic job the last 18 months via Zoom or Teams or some form of electronic medium, there's nothing that can really replace a face-to-face meeting to make a connection with a client or a prospect," he said. "Quite frankly, we think our advisors are itching to get back to doing business the way they were successful in doing pre-COVID."
Coordinating a post-COVID comeback
Accommodating a return to the office will require firms to consider an array of factors. From a compliance perspective, both Wellington-Altus and Mandeville are keeping in contact with regulators, ensuring they meet or exceed provincial and federal guidelines. And rather than handing down mandates for employees to come back, they're focusing on protocols around capacity limits, social distancing, temperature checks, and work rotations to ensure safety for all who enter their offices.
"We want to instil a sense of trust and confidence among clients," Laferriere said. "In times of uncertainty and anxiety, the support that clients can get from a trusted advisory firm goes a long way."
Beyond safety at its physical locations, Mandeville is actively and openly prioritizing security for clients as they interact remotely with advisors. To that end, the firm has partnered with FutureVault to introduce Mandeville Vault. The new digital vault platform allows advisors and their clients to safely collaborate and share digital files such as client reports, account statements, and important documents such as insurance policies, wills, and vaccination cards, to name a few.
"On the client side, they have the ability to set up file folders, which they can then share through an encrypted pipeline with whomever they see fit," Laferriere said. "They can de-clutter their life by digitizing their documents, and they can take the vault anywhere with them even if they choose to part ways with us."
The post-pandemic direction of wealth firms can also impact their ability to shape their corporate culture. Traditional finance firms may associate a strong culture with having a physical location for its leaders and talent to congregate in, but that's not the way Wellington-Altus sees it.
"Our thesis is that the best cultures are ones where people want to contribute, rather than being told to contribute," Hauser said. "As a company still in its growth phase, developing culture is a big deal for us, and we think letting employees proactively decide to come back to the office is a better way to do that."
And while training and orienting new advisors might once have been nearly impossible if it's not in-person, Mandeville is able to onboard teams remotely, allowing it to sustain annual growth between 35% and 40%. Mandeville's culture and commitment to advisor success means it continues to invest in technology while at the same time reinforcing the "person to person" nature of the industry.
So overall, will the era after COVID-19 be easier or more challenging for the wealth industry? For Laferriere, it comes down to one thing.
"Moving forward, we think the only significant question for firms is how well they can adjust to clients' tastes," Laferriere said. "Clients have become more comfortable with technology, which I think opens the door for firms and advisors to do great things like using artificial intelligence to improve scalability, efficiency, and responsiveness to their needs and wants.
"Ultimately it comes down to empowering the advisor to operate their practice in the way the advisor best believes will make the client experience successful," he continued. "Our model does this best by providing a range of technology capabilities while at the same time recognizing that this business is still a relationship business based on client trust of an advisor."
For his part, Hauser also emphasized the importance of providing flexibility for advisors. Even as Wellington-Altus thrived throughout the pandemic because of technology, it has continued to invest in physical branch setups, building 12 new branches in preparation for a new normal that resembles the old, pre-pandemic one.
"We did that with the expectation that when it comes to people's money, they want advice face to face," he said. "Coming out of the pandemic, we think Wellington-Altus advisors will need the flexibility and freedom to choose how to take care of their clients. We think we've done that in our model."
Post-pandemic, Laferriere indicated that advisors have the freedom to operate their practice their way. "At the end of the day, Mandeville Private Client's model and culture is about advisor success."