Corporations face more investor demands to divulge data on their ethical and environmental practices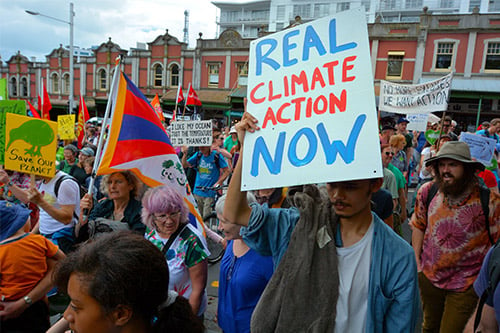 Teen climate-change activist Greta Thunberg, who in a speech took members of the U.N. to task for their inaction on the issue, has won hearts and minds around the world. Whether her call for accountability will catalyze movement is uncertain, but one thing's for sure: she's not alone.
Around the world, more investors are campaigning for companies to divulge environmental, social, and governance data to show how ethical and earth-friendly their businesses are. Many firms have resisted such calls — though such decisions have become riskier than ever.
A recent Wall Street Journal report noted how Europe's second-largest asset manager, Legal & General Investment Management, dumped all shares of Exxon Mobil from its US$6.2-billion Future World funds, a fund group for investors who consider ESG criteria. The reason: the company failed to meet minimum requirements "including on emissions reporting and targets."
Exxon Mobil recently faced criticism for not providing information on emissions from use of its products, known as Scope 3 emissions in regulatory parlance. In defense, it pointed to its disclosures of Scope 1 and Scope 2 emissions, which count emissions from sources owned or controlled by the company as well as its own energy consumption and climate-control systems.
Read also: Active managers increasingly engaging for change
In February, a group of 88 investors with almost US$10 trillion in assets, including HSBC Global Asset Management and the Washington State Investment Board, sent standardized environmental disclosure forms to many of the world's biggest companies, according to the Journal. The Workforce Disclosure Initiative, another group of investors with over US$13 trillion in AUM, sent 750 companies a letter in July asking for more information on how they manage their staff and workers and supply chains; 90 companies have responded with the information.
Then there's the Investor Mining and Tailings Safety Initiative, another investor coalition representing US$10.3 trillion in assets. After the collapse of a dam in Brazil operated by iron-ore giant Vale SA unleashed a torrent of mine waste that killed more than 250 people, the group asked 726 listed mining companies and oil-and-gas companies to bare details on their waste storage practices. In all, the Journal said, 290 companies have responded with more information.
"Over the last three years we have seen investors going from 'Yes we want the data' to now very actively … pushing companies and trying to hold companies to account in different issues," said Vaidehee Sachdev, a senior research manager for the Workforce Disclosure Initiative project.
Bruno Sarda, president of disclosure platform and investment research provider CDP North America, said more and more investors are regarding transparency as a necessary first step for any organization to be serious about addressing ESG risks.
Many large companies are heeding the call. Tyson Foods, the largest meat company in the U.S., has been sharing ESG information for the past three years, with targets to reduce its emissions in line with the Paris Agreement on climate change. Auto maker Ford, meanwhile, has been proactively disclosing its level of water use related to manufacturing, with progress reports made public every year. In March, Coca-Cola revealed that it generates three million metric tons of plastic packaging yearly; the softdrinks giant also has regular disclosures on its water use, with targets in place to use less water in making its drinks.
Many other companies are still not sharing all their nonfinancial information, citing an inability to collect useful information or how environmental or social issues don't affect their financial performance. Others are concerned that they will be punished for not living up to investor's expectations.
"We come across companies that fear disclosure a lot," Sarda said. "Some companies feel they can't disclose until they can be good enough or, if they are not good enough, they are afraid they may regret having disclosed."