Mandate propelled by market performance and ability to add more client-facing advisors to its roster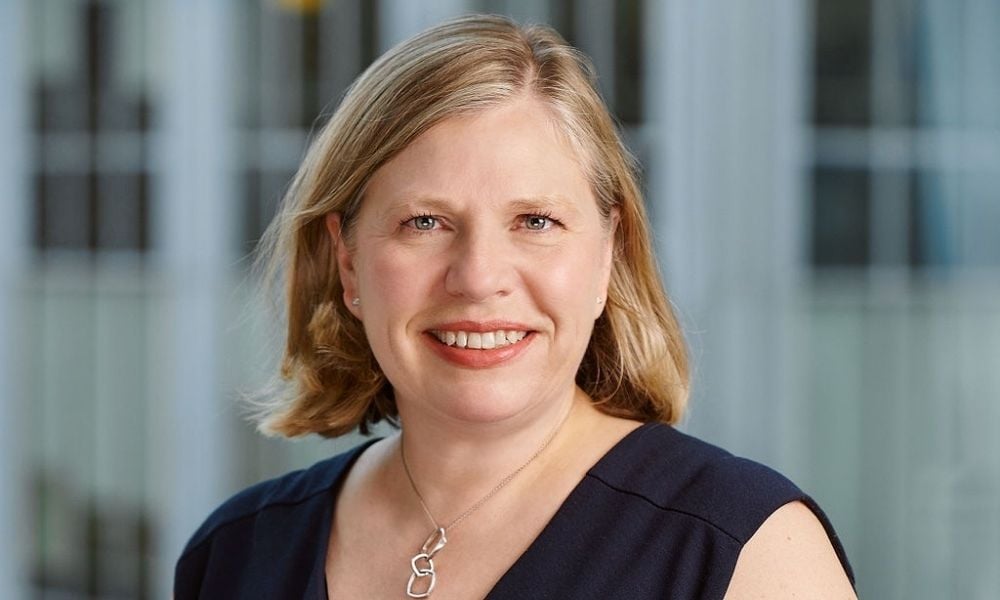 Janine Guenther, Dixon Mitchell Investment Counsel's first woman President, is on a mission to double its assets. Even though she's only nine months into her new job, she's already well on the way, and has more plans to ramp it up in 2022.
"My mandate was to come in and double the size of the firm over the next five years, and we're still on track for that," she told Wealth Professional. "Of course, we had the benefit of a great market last year and this year, so that helped us dramatically. But, we've also had the opportunity to add more client-facing advisors to the firm, which is a new thing for Dixon Mitchell."
Guenther, one of an immigrant grocer's four daughters from Starbuck, Manitoba, met Rob Mitchell at a Chartered Financial Analysts' (CFA) meeting in Vancouver after she moved from Winnipeg in 2000. They both ended up serving on the Vancouver chapter's board and stayed in touch professionally. In 2018, while she was running a successful practice at CIBC Wood Gundy, he called to ask her to succeed him in his firm. She did her due diligence and found a good cultural fit, so joined Dixon Mitchell in November 2019.
Three months later, the pandemic hit, and the firm – like others – had to figure out how to do the best for its clients plus hold the firm together. She'd originally planned to be there for two years before becoming President, but six months in, the firm's board of directors asked her to step in a year early.
"So, we accelerated that process," said Guenther. "All of our clients have been thrilled with the transition and Rob will stay with the firm as long as he wants. I think that's really important for younger advisors. As we grow as a firm, we'll still have that voice of history, that voice of reason, because history repeats itself."
Since becoming President, Guenther has focused on two key areas – augmenting staff and fine-tuning product. They've been adding advisors and young researchers to help them build their ESG capabilities and do their own analysis. They now have 31 staff, 18 of whom are CFAs or in the program. They've also added three client-facing advisors, so now have seven. Nine months ago, they also started implementing their own ESG risk toolkit.
"We've really made that a part of our risk management and fundamental analysis of any company that comes into our platform," said Guenther. That's been good for them on two levels. When they analyzed all the current rating agencies, they found they didn't cover all the Canadian companies on the Toronto Stock Exchange or any companies in Dixon Mitchell's small-cap portfolio. So, Dixon Mitchell created its own questionnaire for every holding that it analyzes for its portfolio. It then had a Vancouver-based international company analyze its ESG process and workflows. Its only critique was that Dixon Mitchell wasn't enough of an activist investor.
"I had to explain to them that we're Canadians. We hardly ever get mad about anything. If we really don't like you anymore, we sell you," she chuckled. "So, I'm perfectly happy to be where we are with ESG risk factors and helping even those small cap companies that are part of our portfolio grow because lots of them don't have the horsepower in a day to add ESG considerations to their world. So, after they go through our questionnaire, we have a conversation with them and help them get a little better, and it's great for their shareholders, as well."
The firm's also been transitioning portfolios from Rob Mitchell to others, while maintaining clients' trust, since Mitchell and Don Stuart, the firm's founders, built the firm one client at a time. While it takes several meetings to make that transition, Guenther said it's worth it since it's core to the firm.
She's also introduced the Dixon Mitchell wine tasting event, where it partners with local wineries to do online education as an annual client event. She suggested it after the pandemic began since the wineries could send clients wine COVID-safely and then hold a fireside chat for clients to learn more about wine. They've held it for the last two Novembers, and she expects it to continue as clients from Winnipeg to the rural B.C. can also attend online.
When Guenther began in November 2019, Dixon Mitchell had $2.5 billion in assets under management (AUM) – and the firm's board asked her to double that in five years. It's now $3.6 million, and she expects it to grow quickly because they now have good momentum and more people finding them, especially as they begin to make themselves better known. The firm also has about 1,200 private clients (measured by households) and 300 institutional clients.
Even though she hasn't hit the one-year-mark in her new job yet, Guenther is still implementing change. In November – two years after arriving – she started working on updating their technology so they can grow to $7 billion in AUM within the next five years. She's also still got her eye on new cultural staff fits.
"If I could talk about the markets and business every day, all day, it would be the best thing in the world," she said, noting it's harder to help people through hard times as she feels so deeply for them. "But, I love the fact that I've got the best job in the world. I get to read for living and make money. Unbelievable!"