First Block Capital CEO says crypto bear market is part of space's natural evolution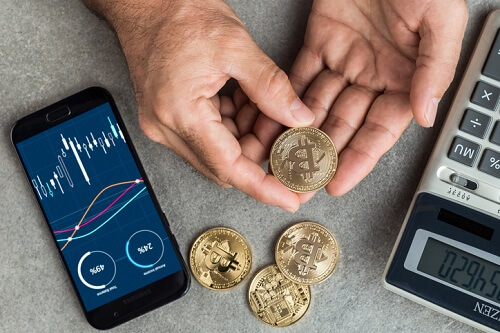 The cryptocurrency bear market is part of its natural evolution and "real companies are building real applications" despite the drop in share prices.
Two major players, Ether and Bitcoin, dropped 11% and 2.4% respectively yesterday, according to Bloomberg composite pricing, as the space hit a fresh 10-month low.
However, on the same day Vancouver-based First Block Capital announced that its Bitcoin Trust fund is now available to accredited investors on NEO Connect, allowing people to gain exposure to the cryptocurrency as part of their registered RRSP and TFSA accounts.
Sean Clark, co-founder and CEO of First Block Capital, said any IIROC dealer or investment advisor with a discretionary account can now purchase units of the year-old mutual fund trust. "Essentially, it's a bitcoin ETF for accredited investors," he said.
When units are bought, the company buys actual bitcoin and Clark said this gives investors a more secure way of gaining exposure compared to buying crypto tokens.
The space is volatile, however, and he urged unsure to see it as a long-term asset because of its infancy. He believes people should have between 1-5% - no more or less – of crypto exposure within their portfolio.
Clark said Bitcoin is on sale right now and is personally buying and holding in his TFSA ahead of an anticipated price increase.
He said: "If you look at the bitcoin price today, it's around US$6,200 and this time last year it was US$3,000. So 2017 will gp down as the ICO boom and bust, and a lot of wealth was created just through tokens going back and forth.
"For us the market is still going up. So if you take out the bull market of last year, you still have a 50% increase in the price year over year. It's early days for us - when you take a look at the entire history of bitcoin, the bull market of 2017 was the natural thing that got everyone excited and talking about it."
Clark believes the current bear market is where the real functional aspects of bitcoin are being developed and is confident that the ability to transfer assets digitally from peer to peer without an intermediary will be a generation-changing development.
He said: "The internet is evolving from the internet of information to the internet of value and how you can use the internet to exchange value immutably without using Mastercard or PayPal.
"These are huge developments that will take a few years to come to fruition. For us, at First Block, we're just creating financial products to give investors access to this space and this entire asset class will grow as institutional retail money comes into it."