The employer, employee, and insurer all have roles and responsibilities when it comes to disability claims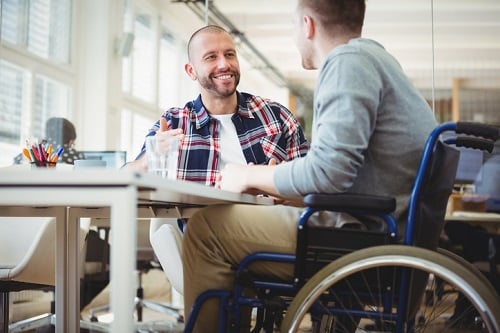 Many employees have access to long-term disability benefits through employer-provided group plans, which are typically provided and administered by a third-party insurer. When an employee makes a disability claim, the insurer has to manage the claim based on available medical evidence, while the employer has to hold the employee's position and accommodate their return to work as necessary.
Typically, the process for administration of benefits and transition back to work is straightforward. But the different parties can be exposed to risk and liability because of some prevailing misconceptions, which one legal expert clarified in a recent note.
"An insurer's acceptance of a long-term disability claim does not end the employer-employee relationship," said Devan Marr of Strigberger Brown Armstrong LLP. "The employer has an ongoing obligation to accommodate the employee's disability."
Aside from keeping the disabled employee's position open, the employer may have to modify their workspace or duties to assist in their return to work. The employee is also obligated to participate in any accommodation process; if they do not, they may face termination of their employment under a legal claim of "frustration" by the employer, as well as cessation of their benefits from the insurer.
Employers may also choose to terminate if they can prove that the contract of employment is being "frustrated" by the employee's disability itself. "Frustration is a legal doctrine that refers to an intervening event that prevents the further performance of a contract," Marr explained. "Depending on the wording of the contract of employment, this doctrine may relieve parties from any further obligation to each other, with the exception of statutory minimum entitlements to notice, severance, or pay in lieu of notice under the Employment Standards Act."
Most employers may believe they can claim to be frustrated once an employee has received disability benefits for two years — the point at which most disability policies start restricting benefits to those who are "unable to engage in any occupation they are reasonably suited for by age, experience, and training." But according to Marr, frustration of contract must be driven by facts that include the nature of the worker's position, the employee's disabilities, and the employer's meaningful efforts to accommodate.
Finally, even if an insurer discontinues benefits to a disabled employee, the employer must still accommodate the employee; this means a disabled employee not receiving benefits cannot be compelled to return to work. It may also mean allowing them to remain off work without pay or gradually return to work, starting with part-time hours.
"However, an insurer's denial of benefits may be a good time for an employer to seriously consider instituting a formal return-to-work program," Marr said. "If an employee is unable, or unwilling, to participate in this program, the employer may have a better case for frustration."