Global firms warn of potential risks as advocates criticize 'harsh' approach against vapers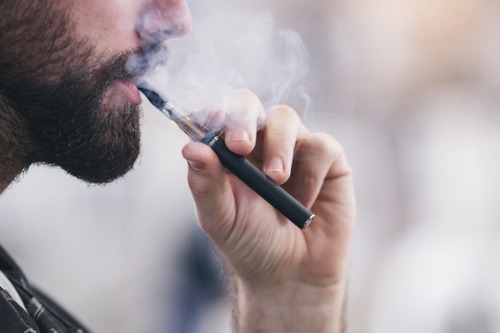 Global reinsurers are issuing fresh warnings to life insurer clients about the potential risks of vaping, increasing the pressure on underwriters to either exclude or impose higher insurance rates to certain vapers.
Most insurers have long regarded smokers and vapers the same, charging them close to twice the premiums of non-smoking or non-vaping individuals, reported Reuters. But in the past three months, several major reinsurers have weighed in with updated advice and warnings focused on young vapers and vaping liquids containing the marijuana ingredient THC.
Hannover RE, which has already encouraged life insurers to treat vapers like smokers, has urged particular caution on insuring individuals under 25 years old. Given the "epidemic" of lung injuries reported in the US, life insurers should ask whether the higher-risk group should be offered coverage, said Hannover RE's US Medical Director Nico van Zyl.
"French reinsurer SCOR said in a paper on Oct. 24 that e-cigarettes contain nicotine which may have toxic effects, including on brain development in teenagers and young adults," Reuters said. While SCOR recommends that life insurers treat vaping like smoking, the firm also suggests that the use of vaping products containing THC, regarded by US authorities as a likely cause of lung issues, be considered a basis to deny coverage.
Likewise holding the view that vapers should be treated like smokers, Swiss Re has told insurers in recent months to ask additional questions to determine whether vapers are using cannabis products, according to global chief medical officer John Schoonbee.
Some reinsurers are reserving judgment. Stephen Cooley, chief medical underwriter at PartnerRe Life & Health, stressed the need for more research on the long-term effects of vaping, adding that life insurance rates for vapers would be the same for smoker rates "at best."
Munich Re and Gen Re are reportedly monitoring recent developments surrounding EVALI, a form of lung injury associated with vitamin E acetate. The substance is found in some THC-containing e-cigarettes which is identified by the US Centers for Disease Control and Prevention as a "chemical of concern.
Meanwhile, advocates of e-cigarettes' role in helping smokers quit are saying that the insurers' and reinsurers' approach is harsh. "Getting insurance is really expensive for people who have taken steps to quit tobacco," Simon Manthorpe, CEO of British vaping product manufacturer Vapemate, told Reuters.
The news outlet noted that vaping regulations are stricter in Britain and other European jurisdictions compared to the US. Britain has a hard ban on vapes containing THC or cannabis oil of any kind; according to Public Health England, vaping is at least 95% safer than smoking.
In a poll of 13 life insurers in Europe, South Africa, and the US, Reuters found that 12 already treated vaping like smoking. The lone contrarian was Reviti, a new insurer owned by cigarette and e-cigarette firm Philip Morris; the firm offers a discount of up to 15% for vapers in Britain, and up to 50% for customers who quit tobacco and nicotine altogether.