For many, having great insurance products and knowing them well aren't enough to make sales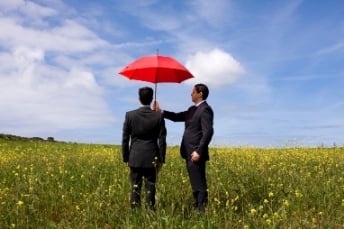 Life insurance agents have a tough job; they have to understand the wide variety of coverage options, terms, and pricing structures that make the policies they offer valuable. Once that's done, they've got to make clients and prospective customers understand and buy the products — and that's where they often get in their own way.
According to John Graham, founder of communications consultancy firm GrahamComm, life insurance agents make five basic mistakes that hold back their sales. The first mistake, as reported in ThinkAdvisor, is when they don't realize that many prospects perceive them only as salespeople who are trying to sell something people don't need, want, or understand. That sets up an uneasy situation where the prospect comes into the meeting suspicious of the agent.
"In order to get the sales meeting off on a more positive note, the agent must first acknowledge the prospect's feelings and set about overcoming those objections," he said.
Agents may also assume that prospects are well educated about life insurance, when in fact many are confused by the lengthy application process. Agents who help prospects understand the intricacies of and dispel myths about the product show that they're not just interested in making a sale, making them more trustworthy. As an example, Graham said agents could make clients aware of hybrid life insurance policies that not only deliver a death benefit, but can also help fund long-term care needs.
Another issue is when agents don't try to learn about their prospects. Getting to know about their concerns, dreams, retirement worries, and philanthropic goals requires an agent to listen and ask probing questions. That way, prospects can understand that they're not giving away their money, but they're also getting something that has value.
The fourth pitfall comes when agents don't give prospects enough choices. "People want to participate [in the buying process] and feel like they're in control, not the salesperson," Graham said. "That's why it's more fun to buy a car than life insurance."
Since most agents work from a limited menu of products and carriers, they could overlook other innovative products that are on the market. To make sure they're not working with blinders and therefore limiting their prospects' options, agents should get informed by trying to work with carriers and other experts.
Finally, agents may overlook cross-selling opportunities from the concerns and risks a prospect faces. A prospect may inquire about one type of life insurance product, but the information-gathering phase of the application may reveal another issue that could be solved with another insurance product. It all depends on the agent's ability to ask the right questions and follow up on concerns, as well as their capacity to determine which product could help erase a burden.