Change is hard, especially in a workplace. But there are 10 easy ways that anyone can being creating organizational change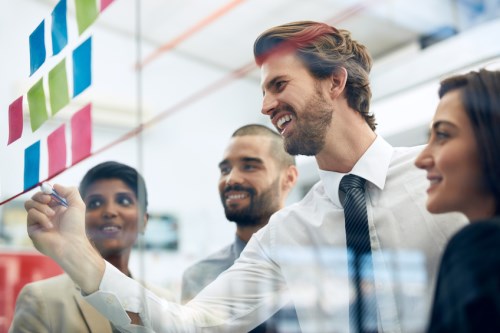 by Laura Troyani
Change is hard. It is basic human nature to gravitate toward comfortable, familiar projects, environments, and people. So, it's no wonder that only 25% of change management initiatives are successful over the long term.
Don't let that number discourage you. Change is possible, whether it's something small like a new policy initiative, or something huge like a merger. But, in order for organizational change to be effective, you need to accept that it won't happen overnight. Or in the next quarter. It's a slow process, and you need to start small to build up to company-wide acceptance and buy-in.
Here are ten quick and easy tips to effectively lay a foundation for organizational change:
1. Clearly state your vision for the future: Teams are more likely to embrace change when they are aware of what is happening and when. Don't create a culture of secrecy. Instead, frequently communicate your vision so everyone is on the same page.
2. Set short-term goals: It is much easier to focus on goals and tasks that can be achieved in the immediate future than the end result years away. Introduce change in bite-sized chunks that are achievable and manageable.
3. Start at the top: Employees will look to the CEO and C-level for support and direction. Ensure leadership buy-in and make sure they are a unified front.
4. Ask employees what they think: Make time to talk to the people on the ground to understand how they feel. You need to hear their needs, concerns, and fears to successfully implement something new.
5. Train and prepare: If possible, give employees the chance to learn new skills to prepare them for a change. Help them transition into a new role or give them the tools to better support a company-wide initiative.
6. Stay on top of resistance: Doing things differently will make some employees uncomfortable. Be aware of anyone who has a sudden negative attitude and address any unhappiness or issues the moment they arise.
7. Create new communication channels: Your team will be hungry for information and updates, so beef up your steam of communication. Maintain visibility, be more accessible for impromptu conversations, and keep your employees regularly updated.
8. Become an early adopter: When you walk the walk, your employees will be more inspired to follow you. You will be seen as a role model adapting to this change, rather than someone telling everyone else what to do.
9. Keep a positive attitude: Change can be stressful and confusing, but you can keep the corporate climate positive by remaining upbeat and enthusiastic.
10. Give frequent feedback: Personal, immediate feedback can be very motivating as employees' jobs and culture change. Build their confidence and shape expectations by providing real-time feedback.
The most important takeaway from this list? Your communication style is imperative to implementing change. Stay transparent, solicit feedback and opinions, and if you're even in doubt, over-communicate.