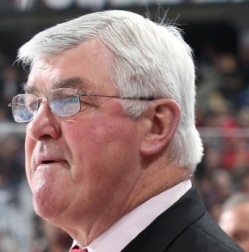 An apparent clerical error is forcing the wife of legendary NHL coach Pat Quinn to go to court after being locked out of his life insurance policy, according to Vancouver radio station CKNW News Talk 980.

The former Vancouver Canucks and Toronto Maple Leafs legend left insurance policies worth nearly $5 million upon his passing in November last year.

But his wife Sandra hasn't seen a penny yet, according to documents filed in BC Supreme Court last week.

In order to avoid paying estate taxes, the Quinns consolidated the policies into a trust in 1996, according to the court papers.

It says Sandra was intended as the beneficiary, with Quinn's wife and two daughters named trustees.

But lawyers found key wording had been left out upon Quinn's death, locking Ms. Quinn from the policy.

None of the claims have been proven in court.

Quinn also coached the Philadelphia Flyers, Los Angeles Kings and Edmonton Oilers and played for the Canucks, Maple Leafs and Atlanta Flames.

Internationally, Quinn also coached Team Canada to the 2002 Winter Olympics gold medal, as well as first place in the 2008 IIHF World U18 Championships and 2009 World Junior Championship, in addition to the World Cup championship in 2004.