The insurer's Vitality program incentivizes Canadians to exercise, get annual health screenings, and complete other health-related activities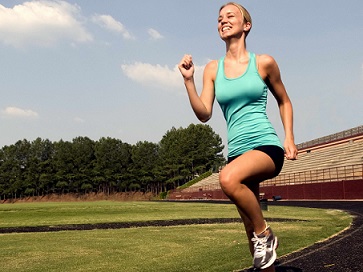 It's a fact of life that many Canadians do not realize that safeguarding your future goes beyond having a financial safety net in place in case of hard times – it should also include making the right choices to avoid those hard times.
That's the thinking behind Manulife's newly launched
Vitality
program, which they describe as "life insurance for the living." The program is essentially a points system, awarding customers Vitality Points and other rewards for completing health-related activities such as exercising, getting an annual checkup, and getting a flu shot.
"Manulife is changing the whole notion of life insurance. Until today, Canadians purchasing life insurance filled out an application, paid their premium and eventually their family makes a claim," said Manulife Canada President and CEO Marianne Harrison. "Manulife is now actively partnering with customers who want to achieve physical and financial health and overall wellbeing."
The program drives home the point that delaying death is not the same as living healthier. By incentivizing healthy choices, programs like Manulife's
Vitality
can inspire participants to be more active and engaged, as well as encouraging other positive behavior.
"John Hancock
Vitality
has very quickly become a material piece of our new business in the United States," said Harrison. "It is being selected on all of our different insurance products and it is appealing across all customer segments – from young families to retirees."
The program is made possible through the use of technology. Manulife
Vitality
members get a voucher for a free bilingual Garmin vivofit3 wearable to help track their progress. Those who are already using a wearable tracker may integrate it so it can be used to track points and program participation. Participants who prefer to go without wearable technology may log their health-related activities independently. The program also leverages other technological features, such as a proprietary
Vitality
mobile app, online and automated tools, and personalized health goals sent directly to members.
Participants may become eligible for rewards and adjustments on annual insurance premiums based on their Vitality Status, which is determined based on the number of Vitality points they earn every year. Members of the program have a chance to get discounts on GoodLife Fitness/Énergie Cardio memberships; the program will continue to engage new providers with the aim of expanding the range of rewards it can offer.
The
Vitality
program is currently offered under the Manulife Family Term with
Vitality
insurance product, which has coverage for 20 years renewable until the age of 80, or coverage until the policyholder reaches age 65. The company is looking into other opportunities to expand the program so they can offer more rewards for healthy living.
Related stories:
Manulife fitness program going global
Wearables market to hit US $5bn by 2019, led by fitness trackers