Efforts to reduce hypertension may lead to undesired symptoms and accidents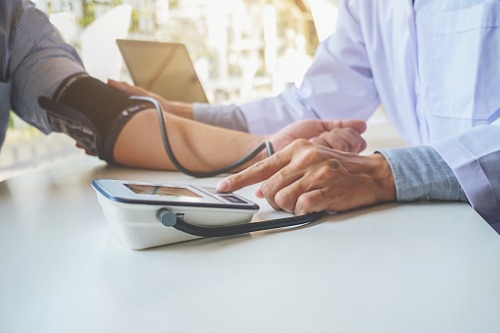 Late last year, the American Heart Association and the American College of Cardiology decided to change its definition of hypertension, lowering the bar from a systolic blood pressure of at least 140 mmHg to at least 130. The decision has since elicited some pushback and warnings from health experts, including a new study in the American Journal of Preventive Medicine.
The research, conducted by Kaiser Permanente, found that patients with hypertension who take prescribed medications and experience unusually low blood pressures — systolic pressure below 110 mmHg — are twice as likely to experience a fall or faint as those whose pressure remains at 110 mmHg or above.
"Efforts to reduce blood pressures for patients with hypertension are an important factor in reducing the risk of heart attack and stroke," said lead author John J. Sim, MD, a nephrologist with the Kaiser Permanente Los Angeles Medical Center, in a statement. "But our study shows that attaining a lower blood pressure could create to a subpopulation of patients whose blood pressures may go too low."
The researchers looked at the electronic health records of more than 475,000 Kaiser Permanente patients in Southern California who were prescribed medication to combat hypertension. Over a one-year period, they found that both mean and minimum systolic blood pressure readings below 110 mmHg were linked to higher rates of serious falls and fainting, leading to emergency department visits or inpatient encounters.
Among those patients with treated blood pressure:
27% had a systolic blood pressure under 110mmHg during at least one visit;
3% had an average systolic pressure reading of less than 110mmHg over the one-year study period;
Those that underwent a single episode of systolic pressure of 110 mmHg or lower during the period were twice as likely to experience a serious fall or faint; and
Those with an average systolic blood pressure lower than 110mmHg over the period were at 50% more risk of serious falls and fainting compared to those whose average systolic blood pressure exceeded 110 mmHg
"Physicians considering lower blood pressure targets for their patients should weigh the risks and benefits of aggressive blood-pressure lowering on an individual basis, especially in older patients," said Sim. He noted that older patients are more prone to orthostatic hypotension — severe reductions in blood pressure as they stand or sit up — and are more vulnerable to the side effects of low blood pressure.
Related stories:
Canadian employers unaware of true breadth, impact of chronic conditions
Women with 'healthy' bodies still face long-term health risks, study finds