After more than 60 years on the job, the veteran agent has no plans to retire yet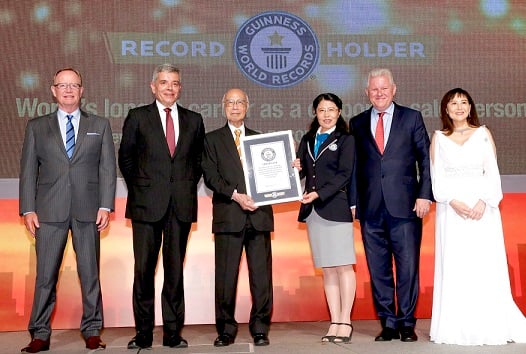 Sun Yung Tsu, otherwise known as Joe Sun, is Manulife's longest-serving life insurance sales agent. The 91-year-old Sun has been working at Manulife Hong Kong for more than 60 years — a stellar run that earned him the Guinness World Record for the "longest career as a corporate salesperson" on July 11.
"I am very honoured to have set a new world record with my lifelong career as an insurance agent," Sun said at an agency event held in Hong Kong on Aug. 2 — 62 years and 238 days after he started. "I have enjoyed every moment of my first six decades with the company, and I am not planning for retirement yet. In work and in life, it is important to always look forward and be passionate."
Sun, who originally came from Shanghai, joined Manulife in Hong Kong along with six other candidates back in 1954, when the office had just 20 staff. His professionalism and passion reportedly earned him numerous accolades through the decades, including recognition as a Five-Star Master Builder in 1979, being included in the top ten Divisional Leader rankings 15 times, and achieving Superstar status five times.
"While technology is creating seismic shifts in the insurance sector, our industry will always rest on people who are dedicated to helping others and developing long-term relationships with clients and colleagues," said Manulife Hong Kong CEO Guy Mills. "Joe exemplifies this more than anyone, acting as a true example of the professionalism we should all strive for and the values we should uphold."
Sun has been with Manulife Hong Kong for more than half of its 120-year history. The Hong Kong office has some of the longest-serving advisors in Manulife's global network. These include Sun's colleagues Paul Hung, who has worked with the firm for 56 years, and Robert Wilson, who has 49 years under his belt.
"Insurance is the shield that protects people from blows they cannot see coming. The industry will change over time, but serving clients will always be at the forefront of our business," Sun said. "People's need for protection and security will remain unchanged, and I hope to continue providing it to our clients, so many of whom have become my closest friends."
Related stories:
Raptors and Sun Life team up to fight diabetes
Sun Life launching virtual mental health program