LHP asked industry experts what the Supreme Court's landmark decision on assisted suicide will mean for life insurance advisors.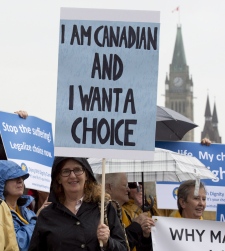 The Supreme Court's assisted suicide decision will have little to no impact on life and health insurance advisors, say industry experts.

"I don't think it will make a difference insofar as the underwriting of the risk because it's all based on actuaries," said Ken MacCoy, an advisor with RitePartner Financial Services.

The landmark decision found that Canadian adults who are mentally capable and are suffering permanently and intolerably have the right to a doctor's help in dying.

The ruling is suspended for a year to give the Canadian government, the provinces and the medical regulatory bodies the opportunity to draft new policies and laws around assisted dying. The court said doctors have the ability to address whether an individual is capable of consent. The intolerable suffering can be physical or psychological.

The Canadian Life and Health Insurance Association echoed MacCoy's sentiments.

"We do not believe that there will be a significant impact, if any, on the industry," said Wendy Hope vice president of external relations for the CLHIA. "We will have to wait and see what the Canadian government comes up with in terms of revised legislation. As always, the industry will work towards complying with any changes."

The only potential issue for clients could be if they fall afoul of the contestability and suicide clauses in their policies.