Industry veteran, author, and sailor shares how focus on expertise and 'being risk averse for clients' laid foundation for business success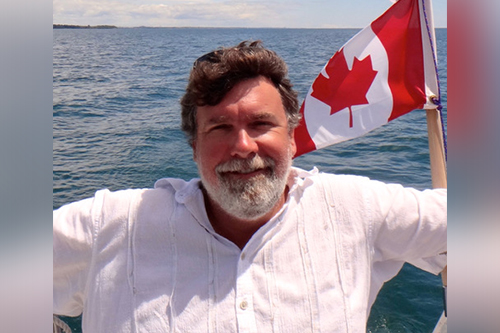 For any professional charting their career in the insurance industry, becoming an ultra-niche expert might feel like an aggressive and risky bet. But for the founder of Canadian Group Insurance Brokers (CGIB), Canada's only broker-focused group benefits association, taking the plunge and becoming a specialist made perfect sense.
"Specialization has so many benefits," David Patriarche told Life and Health Professional. "You only have to learn one thing, but the learning doesn't stop because there's just so much to take in. It also means that you don't have to constantly reinvent who you are and reintroduce yourself to people … If you're known as the person with all your eggs in one basket, then people will also know who to get eggs from."
Patriarche has benefited immensely from referrals as well as recognition – "it's a whole lot easier than constantly going out there and trying to market yourself" – and not just because of the group benefits expertise that he spent more than 25 years honing. At 6'6", he cuts an authoritative and imposing figure at speaking engagements and client meetings. There's also his fondness for sailing, a lifelong passion to which he gave a nod through the name of his independent brokerage firm, Mainstay Insurance Brokerage, Inc.
That passion also features prominently in a book Patriarche authored and published earlier this year. Part-memoir, part-business book, Selling Benefits: Lessons Learned, Voyages Travelled, Stories Shared offers some choice insights on how to succeed as a professional in the employee benefits business which, as Patriarche proclaims in one chapter, is "the best part of financial services."
"My whole business is built on reducing liability, protecting clients, and putting them first, and my sailing life is about reducing liability too," he told LHP. "My friends and family who know me call me Mr. Safety, because they joke and say I over-plan and account for every possible outcome so there's no risk."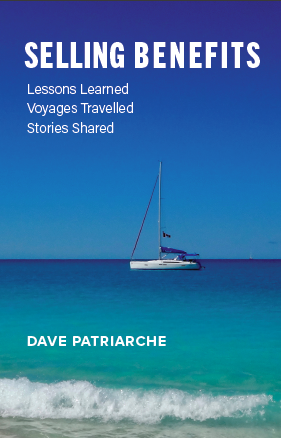 One view he emphasizes strongly in his book is that as someone goes from novice to specialist in the insurance industry, they transition from being order-takers to advisors. That means dispensing the occasional dose of harsh medicine and educating clients on the finer points of benefits planning – for instance, how not fixating on getting the cheapest premiums today can help business owners avoid painful and unsustainable increases in rates tomorrow.
Another unconventional lesson, one that many would find difficult to apply, is to be brave enough to walk away from clients at the cusp of a disastrous decision. The client's best interest, he explained, should be at the heart of every relationship. When they insist on a course of action that will expose them to severe risk – offering benefits to a contractor whose claims won't be honoured by the carrier, for example – an advisor showing their willingness to terminate the relationship can serve as a much-needed wake-up call, as well as a powerful show of fiduciary dedication.
"As an advisor in our space, I think it's crucial to ask as many questions as possible," Patriarche said. "Find mentors, look for accountability coaches, find study groups or associations to join. It'll help raise you as quickly as possible from being an order-taker up to an advisor, partner, and ultimately an educator."
Education is something that Patriarche takes very seriously, not only with his clients but also across the industry. He's not shy about sharing his expertise at seminars and speaking engagements, which he says is a good way to keep him on top of his game. Those activities, he added, feed a virtuous exchange of learning as attendees and students at seminars share their own questions and experiences.
A professional contingent of advisors is certainly essential, especially as the COVID-19 pandemic rocks the industry. With changes flying in from all directions – announcements on government programs, news on healthcare facility shutdowns, and updates from insurance carriers and third-party administrators, to name some – ensuring clients are well informed and served has become a crucial mission.
"A lot of advisors don't do things like newsletters, or blog posts, or email communications to their clients or anything," Patriarche said. "When COVID hit, they just kind of shut down, stepped away and left their clients on their own. That created opportunities for other advisors who were out there, willing to step up."
He said one member of CGIB, Chris Gory, set up an online spreadsheet containing information from all the insurance companies and communications about COVID-19. With that centralized repository, CGIB members have been empowered to reach out to Canadian business owners to ensure that they understand what's happening with their group insurance plans.
Advisors have also been able to add value, Patriarche said, by providing input on plan design changes. Carriers have been announcing or expanding access to Employee Assistance Programs, including those providing mental-health support to plan members, which benefits advisors have been keeping their clients informed about.
And with the new year approaching, advisors have a prime opportunity to prove their value many times over as business owners consider renewing their group benefits plans.
"Many insurance companies didn't provide great discounts during COVID; claims went to zero, but the costs dropped by 50%," Patriarche said. "Now that we're at renewal time, a lot of insurance companies are normalizing data; most people this year should be seeing rate decreases, but unfortunately, many of them will not. An advisor who knows what they're doing can go back and fight those renewals, try to get better pricing, or maybe convince their clients that it's time for a change."