His coverage has lapsed, but the former athlete is still suffering from a career-ending injury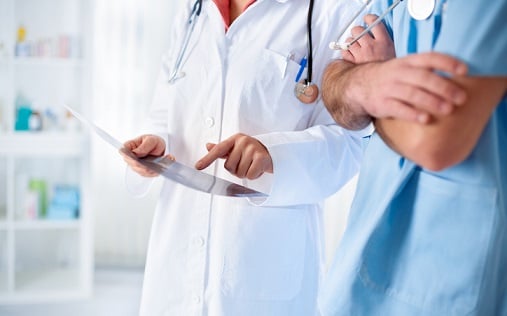 Two years after sustaining a devastating injury, former Canadian Football League (CFL) player Jonathan Hefney is still undergoing treatment and surgery — even after his former team stopped coverage for his medical costs.
On Oct. 1, 2015, Hefney was playing for the Montreal Alouettes against the Ottawa Redblacks, reported the Ottawa Citizen. In a life-changing defensive play, he ran into fullback Patrick Lavoie, colliding helmet-to-helmet with the man. Hefney lay on the turf and was attended to by medical staff for several minutes; he had to be stretchered off the field.
Since the incident, he's been unable to play. He sustained significant injuries that included three fractured vertebrae and nerve damage, which effectively cost him the use of his right arm. Though he signed a one-day contract with the Winnipeg Blue Bombers in May 2016, he had to retire immediately.
Under the terms of a collective agreement between the CFL and the Canadian Football League Players' Association (CFLPA), the Alouettes were obligated to provide health benefits for 12 months, counting from the day of Hefney's injury. That covered one $88,000 surgery in 2016 — 90% of which was paid with insurance and 10% paid by the Alouettes as an insurance deductible — as well as a few months of post-operative therapy.
But for Hefney, 12 months weren't enough. He was supposed to recover enough strength in his right bicep to feed himself, but he's still struggling. He also needs to go through a second round of surgery; between the recovery and rehabilitation needed after the first one, he couldn't recover in time to get the second surgery done before his coverage lapsed.
Long-term injuries are especially burdensome for CFL players, since they are not eligible for provincial workers' health benefits. That problem is common to all professional athletes in all provinces, according to the Citizen.
Aside from personal training and free exercise at the local YMCA, Hefney is still getting physical therapy five or six times a month. He pays for his sessions, each costing $500 to $600, in cash; he said his therapist allows him to do water therapy basically for free. He said he doesn't know the estimated cost of the second surgery; he said he'd figure out how to pay for, though it seems he'll have to use his own savings and help that friends have promised him.
"I never want to put the CFL down, honestly, because it gave me the opportunity to play football," he said. "[But] the NFL, they're going to make sure you're straight until you're healthy, and I feel like the CFL should do me the same way until I'm healthy, to find out what I've got going on."
Related stories:
Insurers need to keep a close eye on CTE in sports, says provider
MMA fighter's death highlights industry-wide lack of insurance coverage