The business reportedly undermines the safety and sustainability of Canada's blood supply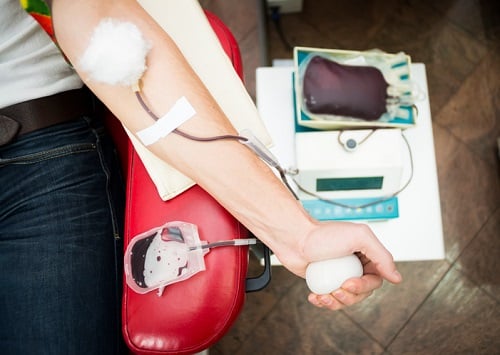 Health Canada is being accused of neglecting its regulatory function as questions arise on how a for-profit blood-collection business is putting Canadians' health at risk.
In December, a media expose from Macleans highlighted risks caused by the operation of Canadian Plasma Resources (CPR), a profit-seeking company. Unlike Canadian Blood Services (CBS) — the non-profit in charge of maintaining Canada's blood supply — CPR does not collect blood donations for hospitals and patients.
"CPR is a private company that pays for plasma collection to generate profit," said Dr. Danyaal Raza, chair of Canadian Doctors for Medicare and assistant professor at the University of Toronto, in a think piece published by the Winnipeg Free Press.
According to Raza, CPR deliberately targeted impoverished and vulnerable members of society by opening or attempting to open locations close to homeless shelters, methadone clinics, and payday loan stores. The plasma they collect is reportedly sold to large drug companies, which incorporate the plasma into pharmaceuticals that are sold back to patients and hospitals.
"CPR's paid donor model has actually resulted in declining voluntary donations … to Canadian Blood Services in Saskatoon," Raza said. While CBS has reportedly asked Health Canada for "a pause of support for commercial activity," the regulator instead allowed CPR to open a second clinic in Moncton, NB.
In addition, individuals who decide to sell their blood may try to get around screening guidelines, raising safety concerns. "CPR [operates] in communities stricken with poverty who already bear a high burden of illness, including blood-borne illnesses like HIV and Hepatitis C," Raza pointed out.
The Macleans report showed Health Canada officials were in direct contact with senior lobbyists regarding CPR's business, expansion, and public relations plans. The lead lobbyist for CPR was also not registered as such until March 2016; interactions prior to that were claimed to be "information sharing" regarding CPR's progress.
"All of this raises the question, what is going on at Health Canada and to whom do they consider themselves accountable?" Raza said.
Related stories:
One in five Canadians with HIV unaware of their condition
Health Canada cuts blood donation deferral period for gay men