Health minister says new deal sweetens the pot for most family physicians, but doctors' group calls most of it a 'rehash'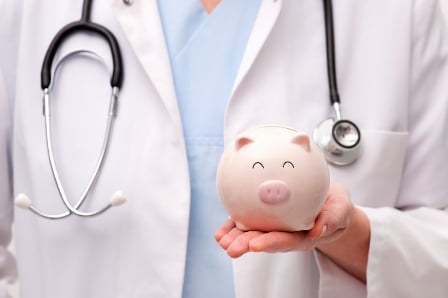 Nearly four months after members of the Ontario Medical Association rejected the province's last contract proposal, Kathleen Wynne's government has come back with an improved package. While Health Minister Eric Hoskins said it aims to make physician compensation fairer, the OMA's initial reaction was negative, according to CBC News.
A major difference between the new offer and the previous rejected one is a 1.4% per year increase in funding for 8,000 family doctors working with family health teams. Rather than billing the Ontario Health Insurance Plan on a per-patient basis, the doctors receive annual fees or capped contracts.
Billings to the OHIP that go past $1 million per year will be subject to a 10% clawback, while annual billings exceeding $2 million will undergo a 20% clawback. In 2015-16, around 470 doctors billed more than $1 million, according to the Health Ministry.
The proposal also includes 10% reductions to fees for items such as diagnostic x-rays and cataract surgery. "With the improvements in technology, ophthalmologists are able to do more of these procedures in less time," said a senior government official involved in the negotiations.
Hoskins said that most physicians would gain from the new offer, but the OMA's initial response was negative. "Large parts of it are essentially a rehash of what our members resoundingly rejected in the summer, so that's a problem," said OMA president Virginia Walley in an interview with CBC News. "No decisions have been made, but all options are open," she added, declining to rule out job action.
Walley also slammed the government for publicizing details of the new proposal an hour after presenting it to the OMA; negotiations were previously done under a media blackout. Walley said her group wants "meaningful and responsible negotiations with government. The Minister's actions today are the very antithesis of that."
"[I]t's important to be transparent with OMA, transparent with Ontario's doctors and transparent with the Ontario public," Hoskins said.
According to CBC News, the rejected offer would have boosted the OHIP's $11.5-billion fee-for-service budget by 2.5% annually over its four-year term. The new proposal would result in the same amount.
Some doctors asserted that the deal would be tantamount to a pay freeze, since they have to perform more and more services for Ontario's growing and aging population each year. Government officials, meanwhile, said the amount is enough to cover the additional demands.
"There are elements in the previous proposal that are no longer on the table," said the senior government official who briefed the press.
Related stories:
Report reveals $4.2 billion in payments made to BC doctors
Doctor group warns of possible mass migration to US over federal tax hikes