Questions on coverage and rates increase as landscape shifts on government and company statements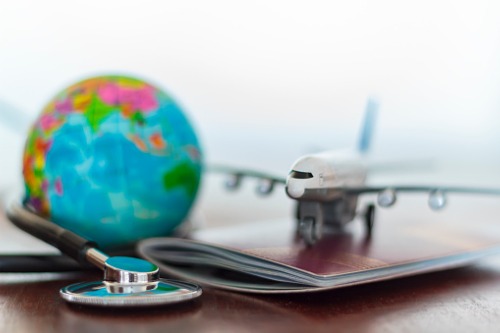 As the coronavirus outbreak has tightened its stranglehold on the travel industry over the last several weeks, more Canadians are looking for a measure of protection and reassurance — and that includes asking questions about travel insurance.
"Our data shows a 40% increase in quoting activity in the last few weeks alone," said Liam Lahey at Rates.ca. "The public is obviously very aware of what's happening with respect to COVID-19, and they've been exploring their options. I think that's a good thing."
No longer unexpected?
According to a previous survey the firm conducted in early February, only 40% of Canadians typically bought travel insurance before leaving Canada.
Since then, the impact of the virus has only increased, leading to event cancellations, mass quarantines, and redirected flights. The issue of travel bans has also taken centre stage this week as Prime Minister Trudeau declared on Monday that most non-Canadians will not be allowed to enter the country starting today, and urged Canadians traveling abroad to come home.
"It can be reasonably argued that COVID-19 is no longer an unexpected event," Lahey said, commenting on news that several travel insurance companies have stopped covering the virus as an unforeseen event. "But as it relates to a federal government level three or level four advisory, that doesn't affect any customers who purchased travel insurance previously.
"Saying that, there are still other insurance companies that offer trip cancellation as part of their overall travel insurance policies, and consumers can still find policies with 'cancel for any reason' coverage," he added.
But still, provisions for travel insurance policies in general could become more restrictive. In a statement issued Friday, the Canadian government issued a travel advisory Canadians to avoid all non-essential travel outside of Canada. Later that day, RSA Canada announced that would be limiting trip cancellation, interruption, and emergency medical coverage for to a 10-day period to a specific destination following the government's announcement.
"If a travel advisory is issued after departure, medical coverage for that location is limited to a period of 10 days from the date of the travel advisory or formal notice was issued," the firm said, adding that the timeline may be adjusted to one that is "reasonably necessary for you to safely evacuate the country, region or area."
Up in the air
At this point, it feels like everything's up in the air, and it's doubly true for those with travel plans that they absolutely cannot get out of. With that in mind, Lahey said, they should confirm the details of any travel insurance policy they took out, and keep a printed copy with a 1-800 help line number on hand along with their other documents.
"Insurers provide different types of coverage, so people have to confirm what they should do in specific circumstances," he said. "Do I need to have receipts for expenses incurred above the original cost of the trip because of being quarantined? What other proof do I need to provide? These are the types of questions you should ask your travel insurance provider."
But right now, it seems Canada's travel insurers have their hands full with questions. According to a statement from the Canadian Life and Health Insurance Association (CLHIA) issued yesterday, companies are receiving an "unprecedented number of calls," and are therefore asking that people not contact their travel insurance provider's call centre at this time unless they are outside Canada and require travel medical assistance, or outside Canada and in need of travel assistance.
"If you need to cancel a trip, please start by contacting your travel vendor (e.g. airline, travel agency, etc.)," CLHIA said, noting that claims to travel insurers should be submitted within seven to 14 days of their original departure date. Some insurers, they added, maintain online portals and FAQ pages to assist them.
"Please be patient. Everyone's claim will be processed," the insurance association said.