Concerns about prescribing practices, costs, and lack of evidence are giving companies pause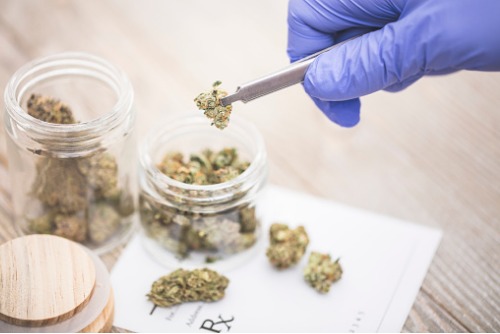 Despite the approaching legalization of recreational pot, Canadians relying on the plant for medical purposes should expect to continue paying out-of-pocket as insurers in the country are still hesitant to provide widespread coverage of the substance.
Sun Life, recognized as a leader in covering cannabis, only recognizes claims in certain cases where potential benefits are proven to outweigh risks; according to Reuters, these include pain from HIV, nausea from chemotherapy, and spasticity from MS.
Manulife, which offers coverage for a few companies that asked for it, recommends an annual cap of $1,500 to $2,500 on reimbursements. Green Shield Canada and Great-West Life are reportedly considering or planning marijuana coverage, with Great-West reportedly having a particular interest in cases where it would substitute for addictive pharmaceuticals.
Part of the hesitation comes from lax prescribing practices, with doctors and organizations that prescribe marijuana reportedly touting themselves as a source of pot prescriptions. Many doctors that regularly prescribe pot don't do proper patient examinations or follow-ups, according to Veteran Affairs Canada's chief medical officer Cyd Courchesne.
"If I was working for any other company, and I was their medical director, I would say do not reimburse," Courchesne told Reuters.
Costs are another cause for concern. Mirroring the experience of agencies that cover pot in other countries, Veterans Affairs Canada saw costs explode from $19,088 in fiscal year 2009 to $62.7 million in the year ended March 2017; reimbursements settled to $51 million after the agency limited coverage to 3 grams a day at $8.50 per gram.
The fact that pot is often costlier than pharmaceuticals makes it important for insurers to study carefully, according to insurance analytics firm Cubic Health CEO Mike Sullivan. As an example, a 10-day supply of Bacloven, a muscle relaxant used to treat spasticity, costs $28.82; that compares to the estimated average dose of 0.68 grams to 1.5 grams of marijuana per day, as estimated by Health Canada, which costs some $8 per gram.
There's also a cited lack of documented evidence of marijuana's efficacy. The Canadian Medical Association has asked members to proceed cautiously on pot prescriptions; the group's vice president for medical professionalism, Jeff Blackner, said he's allowed it for two patients as a last-resort treatment but saw little improvement.