The high-priced intravenous medication is included in most other provinces' public plans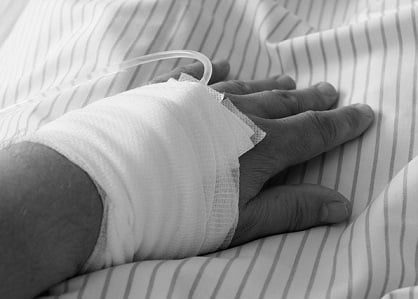 Lemtrada, the brand name for a generic drug used for certain types of multiple sclerosis (MS), is already covered by most provinces. But patients in BC are still forced to pay out-of-pocket for the treatment, which can cost nearly $100,000 per patient annually.
Lemtrada was approved by Health Canada at the end of 2013 for patients suffering from relapse-remitting MS, according to CBC News. The drug is an intravenously delivered infusion that patients are supposed to take in two annual treatments.
If the drug does its job, it should relieve the symptoms of multiple sclerosis, which vary in nature and severity from patient to patient. Milder cases involve fatigue and numbness, but patients with the most severe cases can lose brain function, become paralysed, or suffer other disabilities.
"It's still terrifying for me," Heather Armstrong, a BC woman with MS, told CBC News. "Every morning I wake up and you just don't know what this disease can do to you."
While Armstrong's current symptoms are mild, she still worries they'd get worse; her mother lost the ability to speak and see because of the disease. Fortunately, she and her husband would likely be able to afford treatment.
"If we had to, we would find the money [to pay for Lemtrada treatments]," she said. "But I think of all the people that don't. It just doesn't seem fair."
Earlier in the spring, the Multiple Sclerosis Society of Canada started a campaign to get Lemtrada covered under the pharmacare program in BC. "Our position is that patients should have access to all Health Canada-approved therapies," said Tania Vrionis, president of the society's BC and Yukon Division.
BC's Ministry of Health has refused to make a statement on Lemtrada's coverage status until the provincial elections are over and a new government is in place.
Michele Clarke, an MS patient from Vancouver, said she hopes the next government will consider potential savings to the healthcare system in any decision regarding Lemtrada coverage.
Clarke has lived with MS since 2003. She used Lemtrada in 2014, before which she would try different medications and end up going to hospital. "I haven't had to go back since," she told the news outlet.
Related stories:
Let patients get high-priced medications at hospitals, experts say
Insurers' health benefit costs rising faster than inflation, says report