Industry leaders bring expertise – and family bond – to growing global organization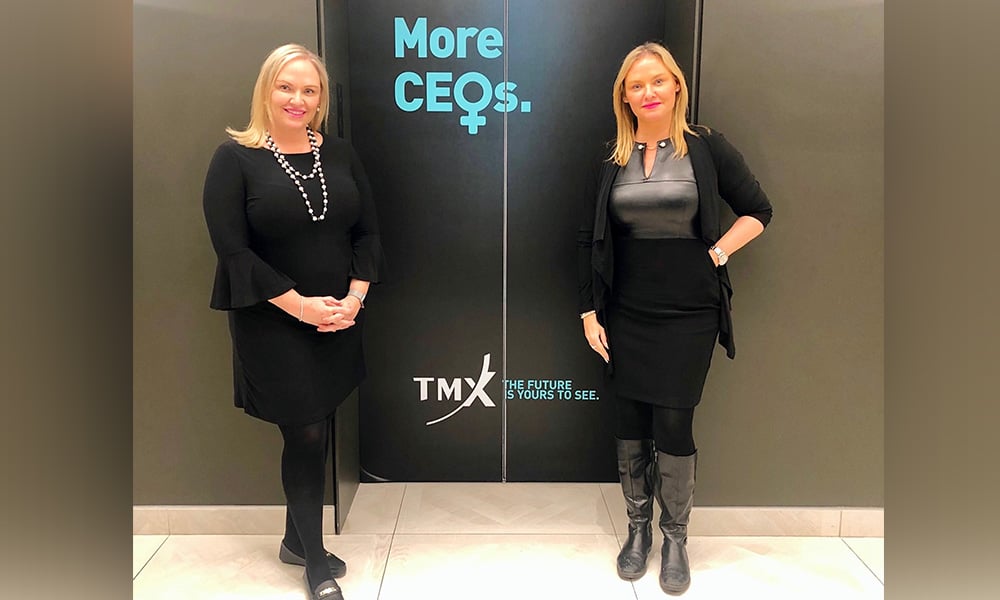 Women in ETFs will be powered by a rare combined energy this year – mirror twins.
As respected leaders in the financial industry, co-heads Tammy Cash and Tanya Rowntree promise to be a "real force" as they bring together complementary personalities and skill sets.
Cash, as head of marketing at Horizons ETFs, and Rowntree, as global head of client success, equity capital markets at TMX, both share a passion for the investment vehicle. Rowntree has been co-head for four years already but her sister's recent election means there will be a unique family feel to the organisation for the final year of her term.
The first board meeting was "electric" said Cash, while her sibling told WP that the next 12 months will be a time to cherish for their family. Brought up by an ambitious and determined single mother, both highly motivated to advance the organization's goals of connecting and supporting women in the ETF industry.
"We both went off in our own directions in leadership roles at our organizations, and it's such a rare thing to be able to come together," Rowntree said. "We're both passionate about this cause. To have this chance to tie it together with someone that you're inspired by and that you care about, and that you rarely get the chance to work with, it's really quite a privilege."
"When we come together, there is a real force that comes across and I think we can accomplish great things together."
Cash added: "It feels a little bit surreal but our lives have always crossed paths. For the last five years, we've been working on this initiative together anyway but, for this year, we now get to experience it together."
Women in ETFs was formed six years ago at an Inside ETFs conference in Florida when 200 of the relatively few women in attendance got together over breakfast and decided to establish a global network. In an innovative space, the founders viewed saw an opportunity for the industry to develop in a more equal way.
The organization hit the ground running and now has 5,600 men and women members across the world, with 30% of the Canadian chapter male.
One of the events that holds a prominent place on its calendar is the "Ring the bell for gender equality" UN initiative, which marks International Women's Day on March 8. Women in ETFs will run a "ring-the-bell" event at the Toronto Stock Exchange on March 12, while there is a similar event at the NEO Exchange.
Cash said these gatherings form a key part of the organization's mission to engage its members, and continue to advance and amplify topics of inclusivity and equality.
She added that work on its Speaker's Bureau is also an important part of this. "It ensures women who are qualified capable industry experts with specialized expertise, and are media trained, get an opportunity to be part of the narrative on BNN or news media generally, or on panels or as a keynote at financial industry events.
"It's really advocating on behalf of the talented brain trust that we have in Canada, making sure that female representation gets up towards the 30% mark. That's something that will be top of mind for our board."
The twins also highlighted Women in ETFs' successful mentorship programme, which creates a "rich network", while university outreach is an area the Canada chapter aims to branch out in.
Challenges remain, of course, but Cash believes the industry is nearing a tipping point around inclusivity and equality.
"I think part of the reason why Women in ETFs took off as it did back when we launched was because there were a lot of very successful women in senior positions within the ETF space – and I think that's quite unique in broader wealth management.
"The impact of connecting, supporting and inspiring has really helped to make this industry one where I think women feel respected, safe and encouraged."
Rowntree believes ESG can aid this environment with its focus on gender equality. "Everything that's been happening in the broader world has hyper focused some of these topics and so I think that the ETF world is really separate from the rest of financial services, and there are a lot of ways that they're getting it right."