As President Donald Trump uses trade tariffs as leverage for Nafta negotiations, an advisor explains why the domestic market is increasingly attractive for investors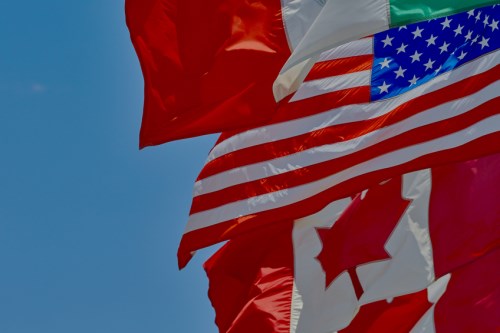 President Donald Trump's tactic of using the threat of trade tariffs to coerce Canada into a new Nafta deal means there could be bargains in the local equity market, according to one advisor.
Robert Luft, portfolio manager, Luft Financial, HollisWealth, says the prospect of a trade war over steel and aluminum exports, and the increased uncertainty over Nafta negotiations, means Canadian investors risk purchasing US equities at an all-time high while getting "destroyed" by the rising US dollar.
If the loonie continues to weaken and Trump's strong-arm approach grinds down Canadian equities, Luft says investors should resist the kneejerk reaction to flee to the US markets.
He said: "As a Canadian, if you're buying into these foreign markets, from an investor's standpoint with your 75-cents dollar, you can have major problems down the road. When these commodities cycles change and all of sudden we're back in favour and our dollar goes back up to parity, then what are you doing?"
He added: "You have to ask yourself, when everybody is crowding one trade, which is the US equity markets, perhaps you should be looking at deals domestically.
"If you are rebalancing, think of it this way: if you are taking some profits off your US equities at all-time highs during a rebalancing process, you're getting more Canadian dollars now than you were a year ago and you're picking up a Canadian stock market that nobody really wants, so you're getting a fairly good dividend yield.
"Obviously, you might want to stay out of the way of too much oil and gas, and energy and commodities, because we all know how volatile they are. But if you are sticking to good large cap dividend players in Canada, the things that will benefit from rising interest rates, like insurance companies, I don't think you are going to go too far wrong."
Luft said the more Trump slays the Canadian commodities market, the more attractive they become to investors. He said his firm has not made a tactical play into the sector other than a couple of large cap stocks, but the Vancouver-based advisor admitted the space is getting more interesting.
He said: "If you are a classic Benjamin Graham disciple and you look at commodities in general, are they expensive right now or cheap? They've been destroyed. So how much cheaper do these things get? They don't go to zero, so I think the commodities sector starts to look more and more interesting the more and more these things start to collaborate.
"You start to look at gold, base metals, you start to go, ok these have really been pummelled and this guy [Trump] is really helping that."
Luft said that while canny investors and active advisors could find buying opportunities amid the volatility of a trade war, they will have to "play the companies and not the market". For the domestic economy as a whole, though, he said the damage caused by Trump's bully-boy tactics backs Canada into a corner.
He said: "The difficulty there is obviously if he gets protectionist, what people forget is it's going to increase all the input costs of all those products and that's going to be inflationary. If it's inflationary and it raises the price of these goods, and decreases the demand for these goods, the repercussion could be if people buy less widgets, then those companies lay people off. So the end game is you get job losses.
"We're an economy of 35 million, they're 350 million. They know we have things that if dropped on one foot, it hurts. [Steel and aluminum] is what we export. They're a massive, massive consumption of our export available goods.