BlackRock strategist says servers and cybersecurity is where the money is being spent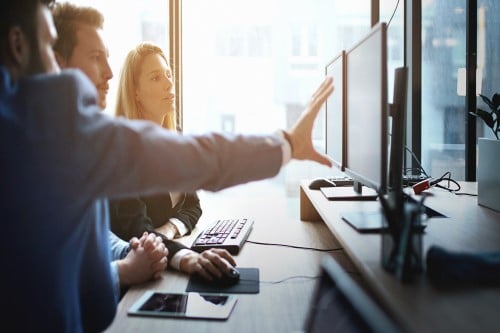 Modern-day capital expenditure trends mean the tech sector is one to overweight.
That's the view of Kurt Reiman, chief investment strategist for BlackRock Canada, whose positive overall view on equities is accentuated when focusing on the strong earnings momentum of the sector.
He said it's no surprise, therefore, that BlackRock is overweight US and emerging markets as both have a large share of their market cap in the tech sector. Reiman believes this reflects the growing maturity of the companies in this space.
He said: "This improvement in capex we've seen is not because of spending on bricks and mortar or traditional plant equipment, it's investment in servers, cybersecurity, hardware and software. This is where, in the 21st century, capex is being spent and so the tech sector is the beneficiary.
"Earnings are strong and in some respects these are not discretionary items, these are must-dos, not wish lists. In that sense, these businesses are more mature; they are acting like a staple.
"Dividends are growing and companies are buying back stocks. The overall yield on tech is improving and that's a little bit of insulation on a rising-rate environment."
Reiman added that while tech is only 4% of the Canadian equity market, it's a growing share that investors should not lose sight of. "It's an area to overweight," he said.
On the fixed-income side, the strategist believes some allocation to longer duration provides balance in a risk-off event but that the real value is in the front end of the curve.
He said that investors are getting paid to raise exposure in shorter maturity bonds and that the flattening curve not as "sinister" as some would have you believe.
He said: "There is some value now in the front end of the curve; it's really quite pronounced in the US but we've seen a similar re-pricing, although not as extreme, in the Canadian rates.
"So we've added to some of our shorter durations, shorter maturity holdings because there is some better yield there and as far as the overall rate move, I think the Bank of Canada is lagging the Fed to the extent that when the rates in the US move up across the yield spectrum, it's going to be hard for the Canadian rates curve to ignore that upward pressure because there is this gravitational pull."
Despite this, said Reiman, slower economic growth in Canada, trade tensions and the fact the inflationary pressures aren't quite there, mean the "rates backdrop is not that threatening".