Despite controversy and price drops, Tesla remains leagues above its stock competitors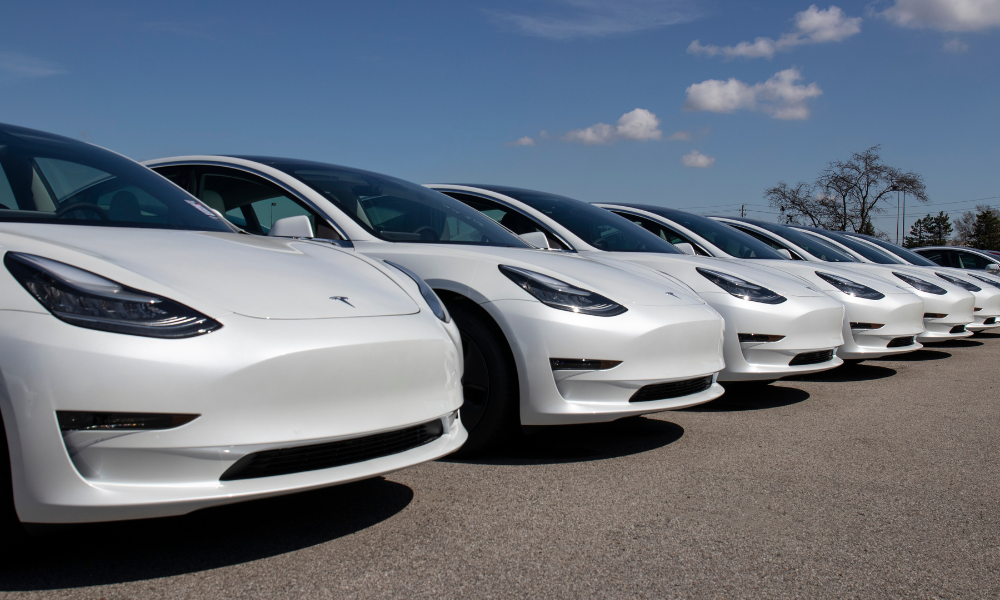 Despite almost every other week shedding light on a new controversy surrounding Elon Musk's Twitter habit, individual investors still haven't gotten enough of Musk's Tesla. Barely a week into March, and they have already spent USD $13.6 billion on Tesla shares – close to the record sum of around USD $17 billion achieved cumulatively last year, research from Vanda shows.
"The aggregate retail inflows into Tesla have never been higher," said Vanda's head of data.
Vanda research further showed that share-buying among individual investors was a likely force behind the 61% price jump in the Tesla stock price this year. Whether buying through the market or among themselves, individual investors in Tesla have repeatedly set and broken the record for most stock purchases made in a single day, showing a powerful and persisting interest in Tesla that has put other securities to shame.
The five-day moving average of individual investors' net one-day purchases exceeded USD $450 million, the Wall Street Journal reported – over USD $300 million more than the second-best performing stock of the market, the SPDR S&P exchange-traded fund (ETF). The SPDR S&P 500 ETF tracks the Standard & Poor's index of 500 large-cap U.S. stocks. It reported a five-day moving average of net one-day purchases under USD $150 million.
Next to Tesla and the SPDR S&P 500 ETF, the Invesco QQQ ETF, Nasdaq-100 tracker, Apple, and Amazon rounded the spots for best-performing stocks and hardly hit the numbers the S&P 500 ETF – never mind Tesla – reached.
The Tesla investor, the Wall Street Journal pointed out, is loyal. When Tesla cut its electric vehicle prices and shares tumbled by more than 60% at the close of last year, Tesla investors scrambled to buy the dip instead of selling out. When Tesla shares bottomed out at the start of 2023, Tesla investors doubled down on stockpiling their shares. And as investor day approached, Tesla share purchases set new records.
By investor day, individual investors had put in over USD $500 million into Tesla, only to be disappointed by the event. Instead of announcing the long-speculated arrival of a less-costly electric vehicle, Tesla instead announced that its goal of becoming the largest car maker in the world by volume could only be achieved by even more projected expenses – costing the company around USD 150 billion in the coming years, the Wall Street Journal reported.
A fully sustainable future requires scale.

With our next-gen vehicle, manufacturing becomes significantly simpler & more affordable.

Our new unboxed manufacturing process will allow more work simultaneously on the vehicle—meaning we can build more vehicles at lower cost &… https://t.co/KxjtMrf3r0 pic.twitter.com/9YYt8wDFme

— Tesla (@Tesla) March 1, 2023
The investor-day letdown was what finally shook individual investors' faith in Tesla – at least for a while. A day after its investor-day announcement, Tesla shares dropped by nearly 6%. The following day, however, Tesla closed at USD $197.79, recovering most of those losses.
Investor Durga Bobba told the Wall Street Journal that he bought Tesla shares for the first time in December, when he saw the stock reach its lowest value in years. He explained to the periodical: "I'm a marketing guy, and the broad appeal [of Tesla] was the number one reason I bought [shares]. People love it, regardless of age and gender."
Bobba continues to be one of many new buyers who have gained from buying the dip late last year. Online brokerage Webull Financial chief executive Anthony Denier told the Wall Street Journal his firm saw a "huge spike in volume" for Tesla shares since December 2022.
Despite Musk's infamous acquisition and handling of Twitter and the plummet in Tesla shares to record-lows last December 2022, Tesla has bounced back in less than three months and currently goes at 45 times the company's projected earnings for the next 12 months, according to FactSet.
Tesla is one of the most popular plays in the options market as well, with nine out of 10 wages on Tesla involving an explosive increase in stock value. One of the persisting bets on Tesla is that the stock will reach USD 825 by January 2024.
"Tesla reigns supreme on our platform," Denier said.
Any thoughts on the story? Let us know in the comments below.