Recent survey reported that 64% of advisors are bullish on marijuana stocks, up from 46%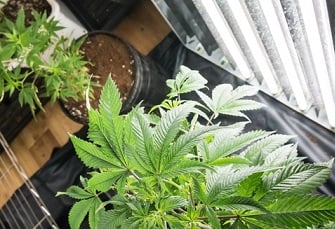 Bullish sentiment on marijuana stocks is being driven by the fact the market surge has happened with only "small-dollar" direct investment.
Mark Noble, senior vice president, head of sales strategy for Horizons ETFs, believes that the prospect of "big-dollar" investment from institutions or large retail channels as the sector becomes more legitimized means a large swath of assets could yet flood the space.
A recent horizons survey reported massive bullishness on weed-focused equities among advisors; up to 64% from 46%. According to the survey, investors are even more bullish at 72%, with the asset class up almost 100% over the fourth quarter.
Noble says the primary actors in the space so far are self-directed investors, a trend that is reflected in his company's Horizons Marijuana Life Sciences Index ETF (HMMJ), which currently holds around $800 million in assets.
He said: "What could end up happening is that this money has poured in and, even as the valuations have come to the level where people have done extremely well, we still haven't seen a large swath of money come in from the institutional or largest retail channel.
"So we could be early days in terms of the amount of money coming into this space because up until this point it has been driven by small-dollar investors. So once large-dollar investors come in, and now some of these stocks are getting devaluations where they can support large-dollar investors, we could see another leg up on it. So maybe that's what's driving this bullish sentiment."
Noble believes the impending legalization of recreational marijuana in Canada – set to happen before July – will add further legitimization to the market, which could attract the big boys to the party. However, he warned that investors have to be wary of current valuations.
He said: "Last year there was more than $1 billion of sales in Colorado alone in recreational marijuana, so that would suggest that in a place like Canada where statistics have suggested there is a $5million recreational market, there could be something similar that comes to fruition over the next one to two years, which may necessitate some of these valuations.
"But even with a $5 billion marketplace, some of these valuations are looking a little high. The big bullish part is that where this sector has primarily been driven by direct investors; they have become the largest pool of assets in this area."
Despite the excitement at the prospect of more growth in the weed sector, Noble admits an element of caution must be maintained.
"Right now all people are buying is the potential," he said. "The potential could be great but there is no realisation of it there, so investors have to understand they are buying into a class of stocks that are not anchored in the classical way to value. That being said, when marijuana has gone legal in places like Colorado, also not in a classical way, sales have always beat expectation."
Related stories:
Horizons announces changes to pot ETF
Plunge in cannabis stocks tests investors