Respected performer and market strategist on what he looks for when selecting equities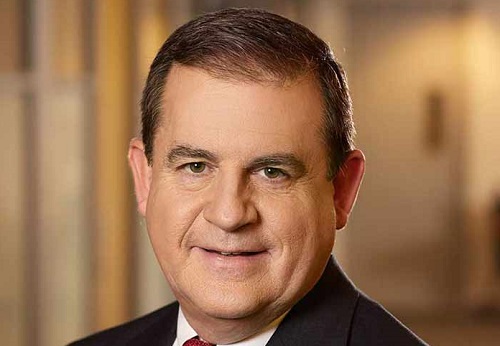 Investors should gravitate to companies that are primarily domestic and have positive free cash flow, according to an industry veteran.
Bob Doll is senior portfolio manager and chief equity strategist at Nuveen Asset Management and also manages the Evolve Active US Core Equity (TSX: CAPS) ETF, which has just celebrated its one-year anniversary.
To mark the occasion, Doll, who has more than 36 years of industry experience, opened the TSX yesterday and sat down with WP afterwards to discuss the current economic landscape.
Having also held senior roles at BlackRock, Merrill Lynch Investment Managers and Oppenheimer Funds, Doll is highly respected for his views on the equity market and regularly outperforms. So what's his secret sauce?
He said: "When consultants look at us and ask how did you get such good numbers consistently? We come back and say it's because we have not one investment process, we have two.
"Virtually everyone has an investment process, so why do we spend the time and the money to have two? To reduce the number of mistakes we make. It's the power of two that has raised our game."
Asked what sectors he likes in the market, Doll is happy to provide an insight into what's driving the Evolve fund and his thinking in a lower-return environment notable for raising rates and the return of volatility.
He likes consumer discretionary, healthcare and has been buying into the energy weakness. Utilities and industrials, however, get the thumbs down.
He said: "In a good economy, utilities don't have the earnings growth and industrials are so internationally dependent. The more domestic your earnings have been, the better you have done in the US. That's one of the factors.
"Whatever the sector, have [earnings] come from the US? We are underweight international earnings – there's the tax bill, relative earnings growth, the trade issues, currency; they all point to the more domestic you are, the better off you've been."
Doll said there has been a shift from a beta world to an alpha world and that investors should brace themselves for lower returns. He believes that it's not how much you now have in or out of the stock market, it's what you own and don't own.
He said: "The beta world is, of course, what asset class I own, while the alpha world is within the asset class what I own and what do I overweight. That is typical of a lower-return environment, which I think we're in."
The long-serving portfolio manager drilled down on some of the specific companies that are floating his boat right now, picking out United Healthcare – 'the granddaddy of HMOs' – tech firm Cisco and Comcast in the consumer sector.
The common denominator is that they are primarily domestic and have positive free cash flow.
Doll said: "This is another key investment criteria in a world where we are maturing as an economy and returns are slower. If the company can generate cash flow and put it to intelligent use, they'll win. If they're a net cash user, they probably won't."
Every week is a busy week for Doll and his team as they constantly trade, trimming into strength and buying into weakness. This month, he said they trimmed a lot of defensive stocks that didn't hold up like consumer staples and utilities, while they continue to cut back on growth technology.
It's a stage of the cycle that Doll has seen before, with the only difference this time being how low it started with rates and inflation. He dismissed the notion that this expansion is fundamentally different, however.
He said: "Is this cycle going to repeal history? No, it will end some day and it will probably be caused by the Fed raising rates and the yield curve eventually inverting, trying to stave off an economy that's heating up and [rising] inflation. Then we'll have a recession.
"I think it's far enough into the future that I'm not giving up on making money in equities. The cycle has lasted longer because we had those low interest rates but we are normalising now and volatility has gone from very low to normal because we are in a normal environment.
"We don't need central banks to rescue us from the brink of depression, like we did a decade ago."
Follow WP on Facebook, LinkedIn and Twitter