An increasingly cloudy outlook is just one factor prompting many to consider increasing their exposure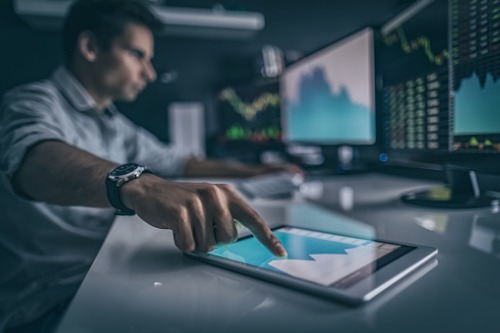 As the majority consensus swings toward a forecast of higher market volatility in the next six months, more ETF investors are thinking about increasing their exposure to the popular investment products.
That was one of the major conclusions reached in the ninth annual ETF Investor Study by Charles Schwab, which surveyed 1,500 US investors who have bought or sold an ETF within the past two years.
"After a decade of market gains, ETF investors now see clouds on the horizon and are planning to use ETFs to help them weather the storm," said Kari Droller, vice president of third-party mutual fund and ETF platforms at Schwab.
Sixty-one per cent of ETF investors expect market volatility to ratchet up in the next six months, and 44% said they will put more money into ETFs because of it. Focusing on specific asset classes, 63% of respondents said they plan to invest in domestic equity ETFs over the next year, making them the top pick. Fixed-income protection is also gaining favour, as 74% agreed that now is a good time to invest in fixed-income ETFs and 61% said they will invest in such products.
From a sector perspective, technology turned out to be the top target (69%), especially among millennials (74%); financial services took second place (50% of all investors), followed by real estate (45%).
Volatility has actually already inspired movements into ETFs. Fifty-one per cent of respondents said they've increased their allocations in the past six months following higher market turbulence, and expectations of volatility are also likely to weigh on their plans for the coming year. Among those who expect more violent market movements, 73% said they'd invest more in ETFs in the next year, while 37% said they'd consider putting their entire investment portfolio, excluding cash, into ETFs.
The survey also looked into investors' attitudes and anticipated behaviours with respect to ETFs over the next six months, irrespective of the market environment. It found that 68% expected to increase their investments over the next year, higher than the 54% who held the same expectation last year. Similarly, 63% see ETFs as the primary investment type they'd use in the future, up from 55% in 2018.
From a generational perspective, millennials displayed the most enthusiasm for ETFs, though Gen Xers didn't fall too far behind. This was evident across a number of measures, including:
Percentage who see ETFs as their primary investment type in the future (79% of millennials vs. 59% of Gen Xers);
Percentage who cite ETFs as investment vehicle of choice (90% vs. 80%);
Average percentage of portfolio already in ETFs (42% vs. 34%); and
Percentage who expect to increase their ETF investments in the next year (78% vs. 71%)
Looking at different factors in evaluating ETFs, the survey found investors were most concerned about total cost (59%), reputation of the ETF provider (58%), and how well it tracks to its index (57%). When it comes to evaluating brokerages that offer commission-free ETFs, investors most wanted a broad selection of ETF categories (56%) no additional fees (56%), and a broad selection of ETF providers (52%).
Follow WP on Facebook, LinkedIn and Twitter