Gloria Malek tells WP about working the phones early in her career and why it's paramount to have an exit strategy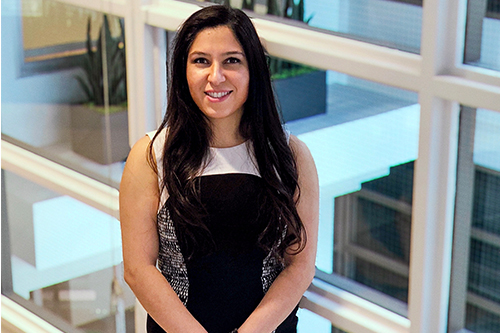 When Gloria Malek began her professional career as a software programmer, she loved it. She loved the numbers, algorithms, processes and math but there was something missing – the human aspect.
Years later, having investment advisors as clients opened her eyes to another world, one where she could marry process with people. Now, at just 33, Malek is thriving as an investment advisor at TD Wealth Private Investment Advice. Having found her approach suits busy professionals and pre-retirees, especially doctors and dentists, her AUM has jumped $40 million in the past eight months, cementing her position as one to watch in the industry.
She is a finalist at tonight's Women in Wealth Management Awards, where she is in contention to win The Carte Financial Group Award for Young Gun of the Year. The ceremony takes place directly after the Women in Wealth Management Conference at Steam Whistle, Toronto.
Malek lives in downtown Toronto, but having her practice based in Mississauga, she is outside the Bay Street bubble – something that has actually proved beneficial when working out her value proposition. Starting out, she made the decision not to chase family or friends' money. Instead, she picked up the phone, offered a second opinion and, eventually, built an organic and rewarding book of business.
She admitted it was a painful process but one that gave her insight that would determine her future.
"I found that [most advisors and investors] were laser focused on net worth, and not necessarily the true drivers of wealth management," she told WP. "Investors on their own were unsuccessfully getting creative on tax efficiency, not many were building sound pension plans, almost everyone had numerous questions on creating and leaving a tax-efficient legacy, and above all very few individuals were thinking about lifestyle protection in a market downturn or a tragic life event."
Armed with a mentor from the get-go, many talks with industry experts and a lot of research, Malek decided to double down on the investor experience, helping people with life changes and ensuring they feel that their money is protected and working for them. Since then, she has helped numerous clients with their financial well-being through both the ups and downs of life.
She added: "I do have the odd client who is really interested in the nuts and bolts of money management ,which is great because that is how they will learn that there is a process and that we don't pull the trigger based off of gut feelings. But the majority of the clients don't care about the minutiae and are only interested in ensuring they are fine if life throws them a curveball."
The medical profession has proved a good fit for her tax efficient tilt. They generate large sums of cash, Malek said, and therefore pay so much in taxes. The other characteristic medical professionals have in common is that they are mostly uneasy about maintaining their standard of life during retirement in absence of a pension plan. With Malek's creativity, clients can ensure a sound financial plan and have their money work for them, all in a tax-efficient manner.
Her algorithm-led technical investment philosophy is an active approach and is constantly being adapted to the market environment. Crucially, it allows her to be nimble and have an exit strategy.
She explained: "Our process is not buying a Canadian dividend-paying stock and holding on to it in any market condition. On the contrary, what we have is a hands-on approach which involves a great deal of technical analysis, and we are adding more and more fundamentals to it."
She added: "Having a process sits right with investors. Everybody is giving them ideas on what stock to buy or how to get into the market but not many offer an exit strategy. We do and everybody asks, 'how did you stay positive last year when almost every index was negative?' It's simple; we have algorithms and we stick to them so when the signals turn red, we get out."
The virtue of "getting out" is often lost on many millennials, she said, who are not scarred by 2008 and are always bullish. On the other hand, older investors are too conservative, after having to go through the three main market meltdowns since 1987 and its ramifications still fresh in the mind decades later. Malek's process adds protection that resonates with that group, who maybe need to be ushered into the market when nervous.
She said: "Everyone has been calling for a crash over the past five years and the markets have gone up and up. Is sitting on cash the right thing? Is being fully invested the right thing? Not necessarily, but there should be a strategy in place to light up your path."