The fund expands on an existing suite of responsible-investment ETFs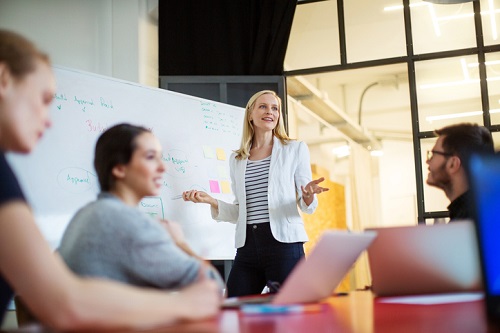 RBC Global Asset Management (RBC GAM) has launched the RBC Vision Women's Leadership MSCI Canada Index ETF (RLDR) on the Aequitas NEO Exchange. It adds to the firm's shelf of RBC Vision Funds, which each determine their investable universes based on exclusionary responsible-investing screens.
"The RBC Vision Women's Leadership MSCI Canada Index ETF is the first ETF to join our suite of RBC Vision Funds," said Mark Neill, head of RBC ETFs. "It also provides investors with a solution to align their investments with their values, while at the same time rewarding companies that are focused on women's leadership."
RLDR aims to replicate the performance of the MSCI Canada IMI Women's Leadership Select Index, which includes Canadian-domiciled equity issuers that display a commitment toward women leadership among their boards and executive leadership positions. To be included in the index, a company should:
Have at least 30% female directors, at least 3 female directors, or two female directors and one woman in a current executive leadership role;
Have a percentage of female directors on its board that exceeds the average percentage observed among all companies in the MSCI Canada IMI Index; and
Have no history of severe structural controversies nor ongoing diversity-related controversies.
According to Judy Cotte, vice-president and head of Corporate Governance and Responsible Investment, RBC GAM is part of the Canadian 30% Club Investor Group. With a membership that includes some of Canada's largest institutional investors, Cotte said the group aims "to achieve a minimum of 30% women on the boards and at the executive management level of S&P/TSX Composite Index companies by the year 2022."
The firm has announced OMERS as the lead investor of RLDR, with an investment of $100 million. "OMERS was founded on the belief that 'together, we are stronger,'" said Satish Rai, chief investment officer at OMERS Capital Markets. "As proud signatories to the 30% Club, we value the opportunity to be the lead investor of the RBC Vision Women's Leadership MSCI Canada Index ETF."
RLDR, which has a management fee of 0.25%, isn't Canada's first gender-diversity ETF. In September last year, Evolve launched its North American gender-diversity ETF with the ticker symbol HERS on the TSX. And in December, Mackenzie Investments announced its own ETF that takes on the theme and listed it on the NEO Exchange.
Related stories: