Elie Nour explains why persistence and adaptation are crucial for wealth advisors seeking to prove their worth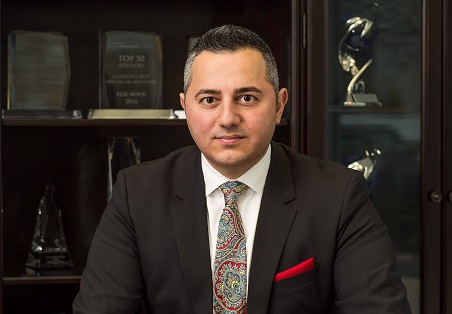 Ask people what they used to aspire to growing up, and they might share dreams of stardom or athletic recognition, often set in the US.
Elie Nour
, on the other hand, would likely offer a slightly less glamorous vision of the American dream.
"Growing up, I was inspired by films about the investment industry in New York," said the wealth advisor and head of Nour Private Wealth with
Manulife Securities
Incorporated. "They sparked a passion within me to pursue a career and success within the field."
It may sound simple, but sometimes it's the simplest visions that present themselves most clearly, and thus exert the strongest pull. Nour spent years on the chase, fueled by a drive instilled in him by his parents.
"My father was tenacious in his efforts to run his own business, and my mother was nurturing, strong, and relentless in her work to provide a safe and happy home to her husband and children," he said. "They raised me to push myself to be a better person, husband, father and advisor every day. I often attribute my success to three core qualities that my parents raised me to develop: persistence, determination, and integrity."
Finally, in 2005, he officially joined the business. With his dream turned real, one might think that his story had happily ended. But for Nour, it was the start of a new journey – one of exploration and education.
"From the start of my career, I was enthralled by every aspect of the job, from meeting with clients to developing an understanding of how stocks and bonds work," he said. "I was captured by the movement of the markets and investor psychology towards returns and expectations."
It turned out that his earlier visions of the industry, seen through the lens of Hollywood and the protective glass of formal education, had been just a rough view. Actually being immersed in it was more challenging – as wealth advisors in general can attest to.
"We live and work in an ever-changing, complex environment," Nour said. "In the past year alone, I myself have witnessed a number of regulatory changes, more than I have seen in the last decade. When you combine these changes, and adapting to them, with working long hours to exceed client goals and expectations, the work of a wealth advisor can seem daunting, but the rewards are significant."
The typical notion of the rewards for investment professionals would involve fees and commissions. While those must certainly factor in, Nour finds his reward not from external incentives, but from the fulfillment of proving his worth as an advisor.
"Each morning, as I put on my suit and head to work, I make it my mission to be a successful professional who seeks to make a valuable difference in people's lives," he said. "Once I became a part of the field, I came to see that I could improve people's lives by helping them get their finances in order through developing intelligent, customized financial plans … My professional pursuits, including earning my CFP designation, have helped me expand and strengthen my existing knowledge to ensure that the advice I provide to my clients is of the highest quality and value."
Of course, the world keeps moving onward and upward. The high-quality service of today will become par for course tomorrow, and obsolete the day after that. Currently, the terrain of the investment industry seems to be shifting into a more client-centred orientation.
"In the last five years, a number of advisors have begun shifting their business away from the traditional transactional platform towards a fee-based platform," Nour said. "It is my prediction that in another five years, advisors will continue to shift their business towards a managed account trading platform.
"While I earned my CIM designation last year, I will also be converting a portion of my business to a discretionary trading platform and working as a Portfolio Manager (PM)," he added. "This will allow my clients to achieve the maximum benefits of professional money management without requiring their approval for each transaction."
The only constant thing, in the investment industry as well as the world, is change. Some might be content with waiting and handling challenges as they come, but Nour believes in a more active approach.
"If I had to give one piece of sound advice, it would be this: Do not wait to evolve your business. Remain focused and dedicated, develop an understanding of where our industry is heading, and listen to your clients' goals and expectations of you," he said. "Do not remain stagnant, ensure that your services meet and exceed expectations, and never settle for the bare minimum. Our industry is competitive by nature, and working within it will never get any easier. It is your job to accentuate and strengthen the value your services bring to your clients."
Related stories:
Relationships are key, declares 2016's Wealth Professional Award winner
WP's discretionary/portfolio manager of the year 2016 speaks out