Tarik Aeta, Portfolio Manager & Global Healthcare Analyst at TD Asset Management Inc.(TDAM), explains his three D's of the sector and why investors must look beyond the pandemic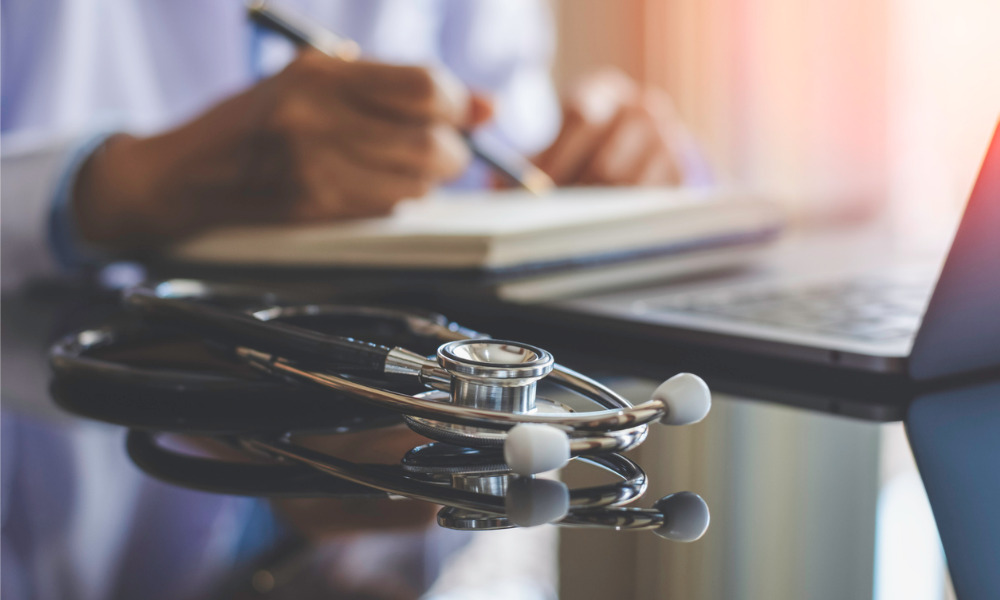 Portfolio Manager & Global Healthcare Analyst at TD Asset Management Inc. (TDAM), Tarik Aeta explains his three D's of the sector and why investors must look beyond the pandemic.
To some, the COVID-19 pandemic means every healthcare product and treatment will be fast-tracked to market and every disease-fighting pharmaceutical company is, therefore, a sure-fire winner. Aeta, however, believes that the pandemic should not obscure the big picture narrative of the sector: that demographics and innovation were driving broad-based growth even before a deadly virus ripped through the globe.
It's those two tailwinds that the TD Global Healthcare Leaders Index ETF (TDOC) aims to tap into to help deliver better outcomes for investors. But Tarik Aeta, Global Healthcare Analyst, TDAM, and co-manager for TDOC, told WP that the pandemic has actually had a mixed impact on the sector.
While life science tools companies have benefited from the increased demand for COVID-19 pandemic testing and diagnostics, and the likes of Moderna, BioNTech and Pfizer have led the way in vaccine development, other names have suffered. For example, medical device companies that produce things like pacemakers, artificial heart valves and surgical robots have been hurt because people have simply not been going to the hospital as they once were. However, we have seen this industry starting to recover in 2021.
Aeta said: "A lot has been said about how the COVID-19 pandemic has accelerated the growth in the sector. While this might be true for certain pockets of healthcare, such as for mRNA vaccines; on the whole, the acceleration of the growth has really been over 20 years in the making, with decades of investments finally reaching commercial maturity across several verticals in recent years, ranging from genomics to intelligent medical devices."
He explained that while awareness of healthcare has undoubtedly increased, the jury is still out as to whether events of the past 18 months mean treatments will come to market quicker. That's because COVID-19 pandemic vaccines not only benefited from large-scale government funding, clinical trial stages run in parallel, accelerated approval pathways, and we were simply lucky that the SARS-CoV-2 spike protein is an effective target which helped in more quickly designing a vaccine, vs the much more complicated task of creating personalized cancer vaccines which is one of the key goals for mRNA technology in the future.
Focus on 3 D's of Healthcare
Taking a broader view than just the COVID-19 pandemic, the ETF targets what Aeta calls the 3 D's of healthcare: the companies discovering drugs, the companies developing widgets, and the companies delivering services.
The first bucket, discovering drugs, features pharma and biotech companies, and includes innovation around antibody-based therapies, traditional small molecule drugs, and emerging gene therapies and cell therapies, with the mRNA vaccines front and centre during the pandemic. One benefit to call out of the ETF is that all names are capped in the ETF at 2%. While some of these mega-cap pharma names have a lot of innovations, they are subject to expiring drug patents on their existing portfolio, which holds down how fast they can grow. This feature allows for more large- to mid-cap companies to gain exposure within the ETF which may provide more long-term growth potential.
The second bucket focuses on those firms developing widgets, including medical device companies designing the likes of pacemakers or continuous glucose monitors. These names benefit from tailwinds in the sector and are not subject to the same patent restraints as new product iterations help in extending the patent life. Within this bucket, investors also get exposure to the life science tools companies that make all the equipment drug developers need to discover and manufacture drugs.
Aeta added: "This means you get companies that grow more consistently over time, and they have less R&D and development risk. When the COVID-19 pandemic vaccines were in development, people were debating which vaccine would be successful, but you don't need to worry about that if you're invested in companies that provide the broad array of tools and services needed to make those vaccines."
The final bucket includes companies that deliver services, featuring everything from urgent care clinics, dialysis clinics, private hospitals in the U.S., and telemedicine companies. These benefit from broad-sector growth and healthcare volumes as demographics age and more people need the doctor or require certain procedures.
While Aeta expects some of the growth in virtual care to slow down as clinics fully reopen, he believes that structurally, the genie is out the bottle and that growth will continue in the years ahead.
What the ETF offers
Jonathan Needham, VP, ETF Distribution at TDAM, currently works with various areas of the TDAM retail network to help educate and grow its ETF footprint in Canada. He explained how the ETF is an index strategy, tapping into the wealth of the in-house experience at TDAM, in partnership with Solactive, a German Index Provider, to provide a low-cost solution for Canadian investors who want exposure to healthcare.
Critically, he said the ETF addresses the tendency for home bias, which means investors miss out on the sector's global growth potential. For example, while the S&P 500 Index's healthcare exposure stands at about 13% of the benchmark, it only represents about 1% in Canada1.
Needham said: "When we built this product, it was to close the [home bias] gap as Canadians don't have as much healthcare exposure as we think is prudent. We do this in a way that is more palatable to the investor in terms of volatility."
With the healthcare sector trading at approximately 17x forward earnings compared to the S&P, which is trading at roughly 22x forward earnings1, Aeta argued that the long-term prospects of the sector should not get lost among COVID-19-pandemic-dominated analysis.
Aeta said: "In the short-term, some investors believe there are more opportunities in reopening trades that benefit from the economy bouncing back. But once the reopening trade is over, I'm confident given a multi-year horizon, that healthcare has a great chance to outperform."
The ETF is Canadian domiciled and listed on the TSX, meaning investors can trade in local currency and not have to worry about estate taxes or T1135 (foreign income tax). It features a globally diversified portfolio of 150-plus holdings at a 0.35% management fee.
The message to advisors: don't miss the forest for the trees and consider having exposure that is reflective of the global weight of the sector. And while there are opportunities in the short term for sub-industries to outperform or underperform, for most investors the important thing is to consider having exposure to long-term, broad-based sector growth.
To hear more from Tarik Aeta & Jon Needham and for a deep dive on TDOC, view to the most recent TDAM Talks ETFs Videocast: A deep dive on a new innovative healthcare TD ETF.
1 Source: TD Asset Management Inc., data as of July 31, 2021.
The information contained herein has been provided by TD Asset Management Inc. and is for information purposes only. The information has been drawn from sources believed to be reliable. The information does not provide financial, legal, tax or investment advice. Particular investment, tax, or trading strategies should be evaluated relative to each individual's objectives and risk tolerance.
Certain statements in this document may contain forward-looking statements ("FLS") that are predictive in nature and may include words such as "expects", "anticipates", "intends", "believes", "estimates" and similar forward-looking expressions or negative versions thereof. FLS are based on current expectations and projections about future general economic, political and relevant market factors, such as interest and foreign exchange rates, equity and capital markets, the general business environment, assuming no changes to tax or other laws or government regulation or catastrophic events. Expectations and projections about future events are inherently subject to risks and uncertainties, which may be unforeseeable. Such expectations and projections may be incorrect in the future. FLS are not guarantees of future performance. Actual events could differ materially from those expressed or implied in any FLS. A number of important factors including those factors set out above can contribute to these digressions. You should avoid placing any reliance on FLS.
Commissions, management fees and expenses all may be associated with investments in ETFs. Please read the prospectus and ETF Facts before investing. ETFs are not guaranteed, their values change frequently and past performance may not be repeated. ETF units are bought and sold at market price on a stock exchange and brokerage commissions will reduce returns.
The TD Global Healthcare Leaders Index ETF ("TD ETF") is not sponsored, promoted, sold or supported in any other manner by Solactive AG nor does Solactive AG offer any express or implicit guarantee or assurance either with regard to the results of using the Solactive Global Healthcare Leaders Index (CA NTR) ("Index") and/or any trade mark(s) associated with the Index or the price of the Index at any time or in any other respect. The Index is calculated and published by Solactive AG. Solactive AG uses its best efforts to ensure that the Index is calculated correctly. Irrespective of its obligations towards TDAM, Solactive AG has no obligation to point out errors in the Index to third parties including but not limited to investors and/or financial intermediaries of the TD ETF. Neither publication of the Index by Solactive AG nor the licensing of the Index or any trade mark(s) associated with the Index for the purpose of use in connection with the TD ETF constitutes a recommendation by Solactive AG to invest capital in said TD ETF nor does it in any way represent an assurance or opinion of Solactive AG with regard to any investment in this TD ETF.
TD ETFs are managed by TD Asset Management Inc., a wholly-owned subsidiary of The Toronto- Dominion Bank.
All trademarks are the property of their respective owners.
®The TD logo and other trademarks are the property of The Toronto-Dominion Bank or its subsidiaries.