The man behind HACK is back, with a new company and a new space ETF called UFO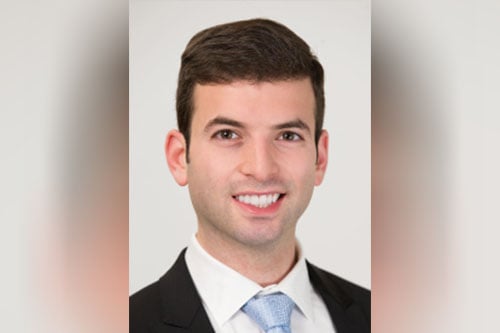 As someone with the twitter handle @ETFwunderkind, Andrew Chanin is clearly no wallflower intent on keeping his feet on the ground.
In fact, he's doing the opposite and aiming for the stars with his new fund, the Procure Space ETF (UFO), the first global pure play ETF of its kind. Using the S-Network Space Index, the official benchmark for the space industry, it focuses on companies that are significantly engaged in space-related activities.
This is not, however, rarefied air for the 34-year-old. The Manhattan-based co-founder and CEO of ProcureAM - industry veteran Bob Tull is co-founder and president – has had a successful but testing start to his career.
Out of university he quickly got a job with Kellogg Group, progressing to lead market maker and essentially, learning the ETF fundamentals. "The first thing they had me do was read ETF prospectuses," he told WP, "which was incredibly fun and entertaining … or the opposite!"
Soon, however, he was poached by Cohen Capital Group to build out its small prop trading group. After regularly giving issuers ETFs ideas, one day he was told he should launch his own - and a lightbulb went off in his head. He lined up partners, service providers and did a ton research. The biggest moves were to link up with options and data firm International Securities Exchange – later acquired by NASDAQ – and sign up third party, white label company, ETF Managers Group.
Big week for all things #Space, and to top it off, I just learned that @richardbranson and I share the same birthday! 🚀🛸🛰📡

— Andrew Chanin (@ETFwunderkind) July 15, 2019
After starting off with three natural resources equity plays, two of which were wound down after a tough 2013, ISE came back with an idea for a cybersecurity ETF product and for a similar partnership. In November, 2014, what became known as HACK was launched and, thanks to an endorsement by security software multi-millionaire Bob Herjavec and the infamous Sony data breach, it took off.
In just seven months, the PureFunds ISE CyberSecurity ETF hit the $1 billion mark and, at its high, got close to double that. Then everything turned sour.
Chanin alleges that ETF Managers Group did not pay him or NASDAQ for months and effectively stole all their funds. In May, 2017, he filed a suit against them in New Jersey, while several months later NASDAQ sued them in Federal Court. The latter trial has now finished and awaiting the judge's verdict while Chanin's own trial is due to start at the end of January, 2020.
Understandably, with proceedings ongoing, there is little he can say but despite this unresolved dark cloud, Chanin has teamed up with Tull, "the greatest operational mind" in exchange-traded products, to come back and launch Procure Holdings.
Its first ETF is the Procure Space ETF (UFO), tapping into Chanin's fund expertise and a love of space that has endured since childhood. He believes the industry's potential is vast.
He said: "I love space. It's such a broad expansive industry. What it looks like today is nothing like it looked like 50 years ago and what it will look like 10 years from now.
"It's one of the areas where there is a strong desire to invest. It could be high risk and volatile, yet there are many companies from around the world that do different things in the industry and most of them don't operate in a vacuum.
"There is a lot of collaboration between companies and government agencies – in my mind, it's one of the more collaborative industries in the world."
UFO is an avenue for retail investors to gain exposure to the industry, which many believe will be worth trillions by the middle of this century. Chanin added that it's the ideal way to get diversification via a global equity fund that opens the door to companies an investor might normally not have access to.
Institutional investors are already building space teams in anticipation of how big it will get, while Ontario Teachers, for example, are reportedly part of a consortium that has acquired a major UK-based satellite company.
Chanin said: "That's a big statement from a pension fund. People don't think about how much space affects their everyday life – but everybody is using Uber, smart-trackers, GPS …
"You hear about the tensions on earth between China and Russia but you have an international space station and we are perfect allies up there, trying to do amazing things and working in collaboration. Space is one of those industries that transcends these various tensions."
At least 80% of the index weight is allocated to companies that derive a majority of revenues from space-related industries that utlilize satellite technology. These include ground equipment manufacturing, rocket and satellite manufacturing, telecommunications and space-based imagery and intelligence services. As Chanin highlighted, the future may well look very different and the index provider has earmarked emerging industries like space tourism, space-based military and defence systems, and space colonization and infrastructure.
For advisors, UFO's broad exposure to such a burgeoning industry is a draw but Chanin believes many may want to use it as a catalyst.
He explained: "If you believe that the militarisation of space is going to cause a spending demand, just like we've seen cyber warfare cause governments, and even corporations, to spend more on the solutions, you could see a huge cash war.
"There is more reliance on space-based assets. People are pouring money into themes like 5G, cloud computing, connected devices, internet of things, machine learning, big data and blockchain. Look at all these themes and what do they have in common? Data. This is reliant on satellite systems, which are the toll operators of the digital superhighway we are seeing right now."