Renewable stocks and ETFs that focus on them could be on the cusp of long-term competitiveness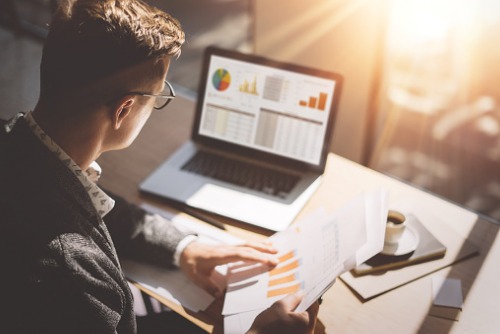 For a long time, renewable energy was seen as an unfeasible solution to climate change, particularly as proponents pointed to issues like costs and the impact on existing industries. But that could be turning around this year as clean-energy solutions get lifted in a market-beating run.
"[R]enewable-energy stocks and the exchange-traded funds that specialize in them are beating the market this year, even as the S&P 500 and Dow Jones Industrial Average reach new highs," reported The Wall Street Journal. For this year through June 5, 12 US-listed clean-energy ETFs tracked by ETF Database had gone up 21.2%, compared with just 13% for the S&P. That includes the group-leading Invesco Solar ETF that was up nearly 45%.
"There's some interplay [with oil prices] but it's more of a longer-term trade," said Reid Steadman, global head of environmental, social and governance (or ESG) investing at S&P Dow Jones Indices.
Clean-energy fund investors have gone on a volatile ride for around ten years as disappearing subsidies and crude oil price fluctuations continually altered the competitive landscape on energy. The stability of the latest run could be affected in part by oil-price fluctuations, which have led to records as low as $60 a barrel.
But some advocates of renewables adopt an even sunnier attitude, arguing that permanent drops in the cost of renewable technologies have occurred and made them cost-competitive with gas and cheaper than coal.
Digging into numbers from the US government, utility-scale solar electricity now comes at a cost of US$36 to US$44 per megawatt-hour of electricity, while on-shore wind power costs as little as US$29. That undercuts the US$36 average of running existing coal plants, and handily beats the US$60 to US$143 per megawatt-hour cost of building and running new coal plants. Carbon-free power projects in the US may also be eligible for state and federal subsidies, driving the cost of energy from renewable sources down to as little as US$14 per megawatt-hour.
"The rise of solar and the cost to produce are either at parity or in some cases lower,' said Sarah Kjellberg, head of U.S. iShares Sustainable ETFs at BlackRock.
US-listed clean funds have seen a rise this year, driven mostly by shares of solar companies that the funds own, and to a significant extent by manufacturers of semiconductors in solar-powered systems. That was the opinion held by Ryan Issakainen, ETF strategist at suburban Chicago-based First Trust, who pointed at the Nasdaq Clean Edge Green Energy ETF.
"They're heavily involved in the smart grid," he said. "There's a lot of information technology that goes into all of the energy technologies."
And while wind power is seeing more accelerated adoption, solar stocks are driving green-energy ETF returns higher. And if predictions on interest-rate cuts come to pass, it could give a further boost by reducing the costs of building new plants.
Another positive sign, according to experts, is the lack of a huge influx of money into green-energy funds following increases in share price among green-energy companies. They say that this could mean investors aren't merely reacting to short-term good news, but are looking to actually stem climate change.