Fund manufacturers that were late to the pot party find themselves on the wrong side of market physics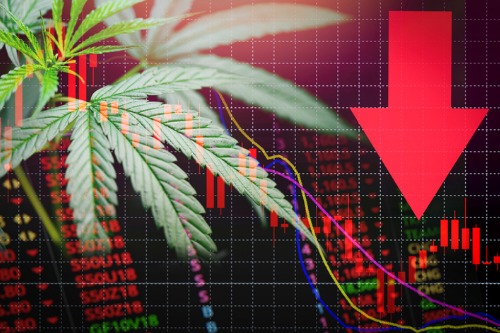 For some watchers of the pot space, the launches of several new marijuana ETFs in the U.S. earlier this year might have been something of a head-scratcher.
The headlines and market noise reached fever pitch last year with Canada's federal legalization of cannabis use, and the earliest pot funds to launch have understandably benefited; Canadian issuers have since found different twists on cannabis investment. In the States, the previous lone ETF focused on the cannabis space was the ETFMG Alternative Harvest ETF (MJ), with AUM north of US$800 million.
Between MJ and Canada's offerings, the pot ETF niche is rather crowded — and the arrival of five newcomers hasn't helped the situation. As reported by ETF.com contributor Drew Voros, the U.S.-listed pot ETFs launched this year include:
AdvisorShares Pure Cannabis ETF (YOLO);
The Cannabis ETF (THCX);
Cambria Cannabis ETF (TOKE);
Amplify Seymour Cannabis ETF (CNBS); and
Global X Cannabis ETF (POTX)
YOLO and CNBS are active funds, while the rest are index-trackers. "For a new niche market, which carries its share of controversy, the number of launches and the modest assets flowing into them is respectable," Voros said. "[B]ut whether it is sustainable is, of course, the big question."
Read also: We have legitimacy in pot space, says Horizons
The Johnny-come-lately funds definitely face an uphill battle. If they hope to survive, a rule of thumb dictates that they gather a minimum of US$100 million in assets within their first year — something that's become harder than ever in today's mature ETF market. The mellowing euphoria around cannabis investing, with headlines of legalization in the U.S. and other jurisdictions already baked into prices, certainly can't be helping.
2019 returns for pot ETFs are on a downtrend, Voros added. A chart reflecting the performance of four of the new funds — it's too early to judge POTX, which launched on September 17 — shows that since inception, they've gone down by at least 25.54%.
"What has happened is simple market physics," he said. The sea of publicly traded marijuana stocks, which are mostly Canada-based, is arguably over-fished; between speculative investors and those looking to short the trend, share prices have gotten massively inflated over the past 12 to 18 months. Now it seems prices are collapsing, and those who bought high are learning a harsh lesson.
Given moves toward larger, more mature marijuana markets and legalization across a greater number of countries, Voros suggested that the pot space certainly has long-term potential. But near-term outlooks are less rosy. As Bank of America analyst Christopher Carey pointed out when he downgraded Canopy Growth from "buy" to "neutral" last week, there are three major headwinds:
The likelihood of a second-half pause in Canada's cannabis industry;
Flattening growth that could make other targets hard to achieve; and
A vaping scare that could negatively impact sentiment on Canopy Growth and other cannabis stocks