Mandeville's 2022 advisor conference in beautiful Banff featured lively debate, inspiring speakers, investment strategy … and a final-night hoedown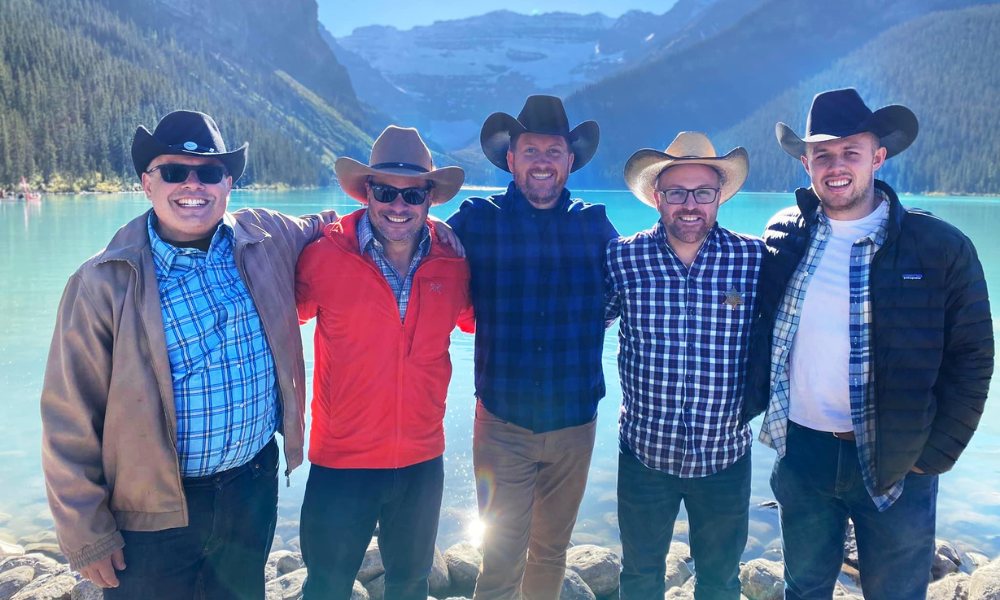 This article was produced in partnership with Mandeville Private Client Inc.
The aspirational, and inspirational, theme of the 2022 Mandeville Advisor Conference was "Level Up," and no location suited this better than spectacular Banff, Alberta. The firm's advisors congregated amid breathtaking mountains that, just like the event's theme, invited you to climb a little higher, improve yourself, and enjoy the rewards.
"The iconic Banff mountains were the inspiration for this year's Level Up theme. Level Up means pushing yourself to reach for greater heights and improving your skills with each level. Our intention for this year's conference was for all participants to leave the mountains with a renewed sense of purpose and be inspired to Level Up their mindset and take their respective businesses to the next level," said Diana Oddi, Mandeville's head of marketing and practice management.
For advisors at Mandeville Private Client Inc., who benefit from its renowned alternative investment platform and mission to democratize strategies used by the major pension funds, the Level Up message was clear: assess where you are and how you can reach that next level.
To that end, the three-day event at the Fairmont Banff Springs hotel featured an awards ceremony, round-table discussions on private investments and Mandeville's six pillars of success, and presentations on new technology and the generational wealth challenge. Some stardust was added by chairman and CEO Michael Lee-Chin, short-lived White House director of communications turned crypto investor Anthony Scaramucci, and ̶ the ultimate embodiment of levelling up – Warren Macdonald, who scaled Kilimanjaro after losing both legs in a freak rock fall.
Fulfilling clients' dreams
The engaging agenda followed a call to arms from Frank Laferriere, Mandeville COO, who provided a "Level Up Report" addressing the major challenges facing advisors and the industry: demographic changes, the technology explosion, and the ongoing paradigm of regulatory changes.
He said: "There's a woeful lack of leadership within society as a whole, and in a time of much information and complexity, you really need leaders and mentors. Part of levelling up is we've got to step up to make sure we're meeting the challenge of helping clients and fulfilling their dreams."
He warned the skillset that served his generation will not be fully translatable to millennials, who don't want to be preached at. Instead, they want advice. The repeated message from the podium in Banff was that advisors must speak to this young cohort in a more collaborative way – as equals but armed with a body of knowledge they can help them absorb.
Mandeville advisors, Laferriere said, typify these changes in attitudes, and the firm is close to laying out its new technology stack, an integrated digital experience, both for clients and its advisors, to assist them further.
"We must appeal to people who are [going to be] controlling the wealth, like young people, like women. It's about making sure people leverage the technology, not to dehumanize the experience but to spend the time on creating those close relationships."
Three years since Mandeville's last NO GRIT. NO PEARL. Conference in Halifax, and with everyone having endured the pandemic, human relationships were back to the fore in Banff. After some rigorous debates during the day, the evenings featured rides up the Banff gondola, bowling competitions, a trip to stunning Lake Louise, and a closing night Wild West hoedown party.
"The conference was designed to not only provide our advisors with educational content, unique sector and market perspectives, industry updates and trends, and business development ideas, but also to foster creativity, collaboration, and a great opportunity to strengthen and build our corporate culture," says Diana Oddi. "I am delighted that the conference was so well received by our advisors and sponsors ̶ it clearly reaffirms that our advisors and management team are aligned and committed to the Mandeville Difference."

Framework for success
But don't be fooled – while Mandeville advisors like to let their hair down, they work to tight frameworks. From Lee-Chin's three Ps of wealth creation (predict, plan, and persevere) to the advisors' six pillars of success – institutional investment framework, prospecting, asset allocation, financial planning, client service, and compliance – the path to success is clear. The panel discussion on the Six Pillars of Excellence, moderated by WP, featured senior investment advisors Melissa Prusky, Ralph Weekes, and Michael Hayhoe, as well as Michael Prittie, portfolio manager. They addressed each pillar in turn, offering examples of what had worked and what hadn't en route to building successful practices.
Hayhoe, an early adopter of alternatives before Mandeville was even founded, is a successful exponent of using these investments to minimize portfolio volatility. He has a large sleeve of alternatives for his primarily baby boomer clients focusing on private debt and private real estate, while he also uses dividend-paying equities and public debt in appropriate volumes. In short, he manages in a pension-fund style. "It's similar to CPP or OMERS in that we diversify across assets, but with a real focus on being conservative and delivering income."
From a field dominated by hedge funds, the space has evolved to feature opportunities in big apartment REITs, for example, while private lending now has a much broader scope. Recognizing Mandeville as a leader in the space, Hayhoe has no regrets about joining the firm.
He said: "I came to Mandeville because they position themselves as a leader in alternatives – and it [still] holds true. They've got a good product shelf, a good process in place to get new alternatives approved, and a good process in place to evaluate the alternatives that are there, and to stay on top of it. It's definitely worked out [for me]."
Integrity and attitude key
At a time of rising interest rates and inflation, Mandeville has been able to demonstrate the volatility-dampening qualities of alternatives and its ability to find good opportunities for wealth creation, which is the crux of billionaire Lee-Chin's approach.
But as important as asset allocation and alternative investment options are, Laferriere also stressed that successful advisors of the future will stand or fall on their attitude and integrity. He praised Mandeville advisors for having high emotional intelligence (EQ) and being able to put the client first consistently. When looking to recruit new advisor talent, these traits are at the top of his checklist. But as well as integrity, intelligence, and persistence, he wants people who are not satisfied with what is happening in the industry.
"The industry is doing a great disservice to clients," he said. "Everything is product-driven; nobody's talking about actually making clients wealthy. Our main theme is being able to give advisors the ability to use public and private pension-like investing but using private and alternative assets that are the quality of what the pension plans themselves would use.
"We're looking for the right attitude, the right integrity, and the right desire to learn. Everything else you can be taught or acquire, but attitude is the key thing."
That mindset was in plentiful supply in Banff as advisors relished the chance to ditch the Zoom calls and discuss things face to face. For Laferriere, the success of the event reminded everyone of the value of meeting clients and fellow advisors in real life.
"No matter what anybody says, this is a relationship organization. Video conferencing is okay, it'll do, but it's not the same as having a drink or dinner with people and having honest discussions, knowing there's somebody really at the other end [of the conversation] whose expression you can gauge, who is concerned about what you're thinking, and who really wants to help."
Armed with an enviable alternatives platform and a stringent framework geared to the creation of wealth for clients, Mandeville is facing the challenges of today with determination, skill, and, crucially, integrity. That's the Mandeville Difference.