Canada's housing crisis means demand is set to outstrip supply for years, making renting a more attractive option for many. Equiton's Apartment Fund answers this need while helping investors benefit through stable monthly income plus capital appreciation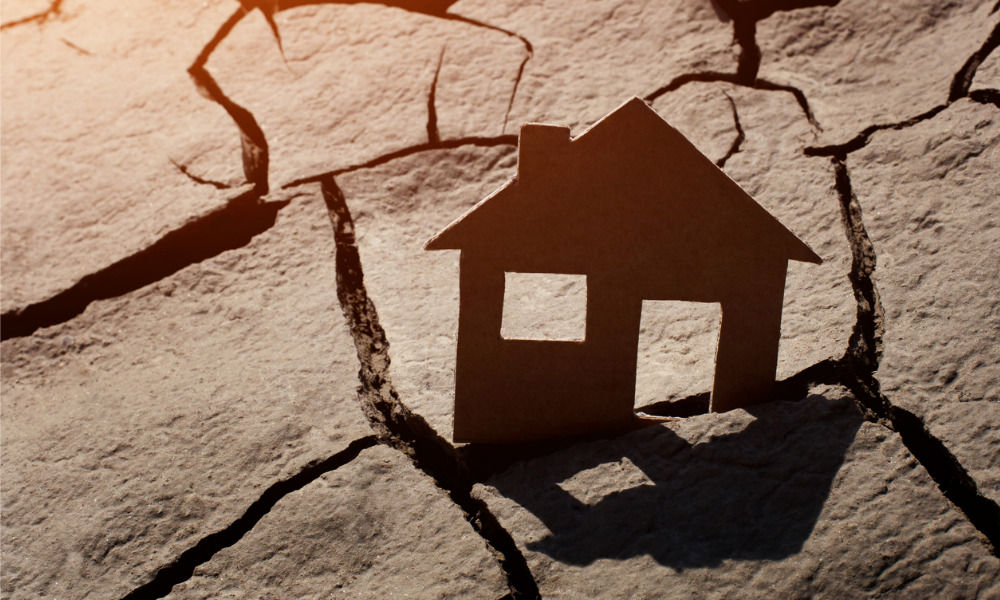 Necessity is the mother of invention, according to the proverb derived from Greek philosopher Plato. Could it be, however, that in 2023 necessity is the mother of investing? The rental buildings that feature in Equiton's Apartment Fund can help alleviate Canada's housing crisis, which has left regular people with a lack of affordable places to live.
To understand the investment opportunity, it's important to grasp the multi-generational housing problem facing Canadians. The Government of Canada's 2023-2025 Immigration Levels Plan will add nearly 1.5 million new residents by the end of 2025, with immigrants typically renting for the first five to 10 years, according to an RBC report[i]. To meet the demand for new homes, Ontario alone needs to hire about 100,000 skilled labour workers, which it's struggling to do.
Compounding this crisis is the fact that buying a house is harder than ever. Interest rates have risen, and many prospective buyers have been priced out of the market given the costs involved. More people are unable to get on the property ladder, and an attractive alternative is high-density rental buildings.
As a result, the Canadian Mortgage and Housing Corporation (CMHC) says that in 2022, the purpose-built rental apartment vacancy rate fell to 1.9%, its lowest point in the last two decades (see graph below). Despite a 2.6% increase in new apartments between October 2021 and October 2022[ii], demand is outstripping supply. This has put upward pressure on average rent prices, which increased by 11% last year and is expected to go up again in 2023[iii].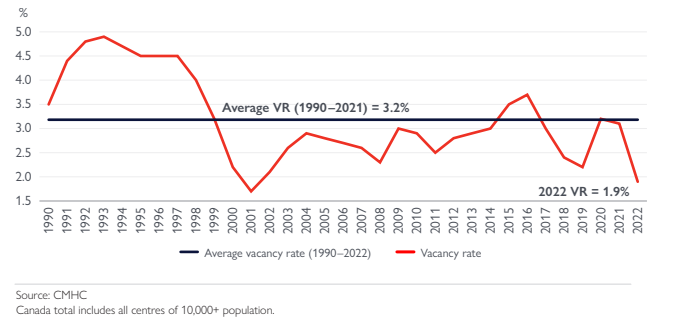 Reflecting its focus on affordable housing, the average rent across Equiton's Apartment Fund, which recently celebrated 82 months of consistently positive returns, was $1,418 as of December 2022, compared to the average rent in Canada, which by November 2022 had eclipsed $2,024[iv].
Lavelle Lindo, VP National & Strategic Relationships at Equiton, adds that the investment opportunity lies in the firm's ability to operate each building as a profitable individual business because the demand for rentals is consistently high.
"The fact we're over $600 below the national average for rent shows we're looking to provide a solution," Lindo said. "And our solution isn't $15,000 a month rental on luxury buildings; we're helping to solve the problem for regular people that just need a good place to live."
While some advisors may view entering the private markets as inherently risky, Lindo says this is a misconception. With monthly income derived from a predictable distribution, and the upside potential of capital appreciation, the Fund offers a stable, conservative investment relative to the public markets.
"The biggest headwind is advisors just don't know about this great opportunity," he says. "We're investing in a necessity - there's a long-term view on our investment, portfolio, outlook and principles, because there's not a short-term fix to the issue we're facing as a nation."
Equiton believes it's at the perfect size. No longer the "new kids on the block", the firm has grown since its inception in 2015 to have more than 8,000 investors and approaching a billion dollars in assets under management. Advisors, therefore, still get that boutique-level one-on-one service, which is unique in the space. Equiton puts a big focus on governance and transparency, employing third party auditors and a majority independent board. The firm is also notably transparent regarding its operational principles, annual reports, and fund fact sheets, which are all available on its website.
With this solid foundation, Lindo believes the rental opportunity is compelling, especially given the volatility in the stock market over the past year. Equiton's nimble size adds to its attractiveness in that it does not have to buy 50 buildings in order to see an uptick in the NAV – one building purchased at $50 million, for example, will have a noticeable impact on the portfolio.
Lindo suggests the Fund could replace a portion of a client's equity weighting in their portfolio, possibly 15% to 20%. "You take an unpredictable slice of your portfolio in equities and make it a very predictable anchor piece for your investment portfolio."
The investment thesis is rooted in Equiton's long-term view on the housing crisis in Canada, in particular Ontario. With the increase in demand for rental housing and upward pressure on average rent prices, multi-residential properties are an optimal investment option. There is no quick-fix to the problem, so invest in a necessity and enhance your client's portfolio with the Equiton Apartment Fund.
---