Khushboo Jha, founder and CEO of BuyProperly, explains how fractional homeownership platform lowers barriers for young investors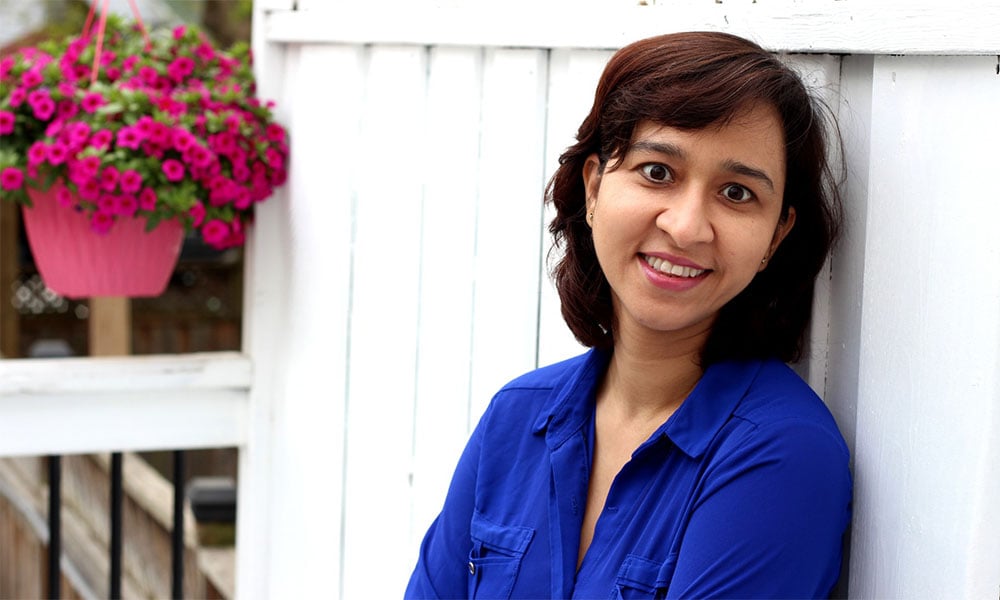 Amid broad pandemic restrictions and a boom in everything digital, individual investors have found opportunities to invest in all sorts of assets from cryptocurrencies, to non-fungible tokens, and even fractional shares of mega-cap tech stocks. And against that backdrop, one Toronto-based company is using technology to disrupt the traditional real estate investment process.
"Ours is a completely online platform, with a web app and of course a mobile app. We want to get as close to an Amazon experience as possible," said Khushboo Jha, founder and CEO of BuyProperly. "Customers can browse through our properties, see which they like, and put in the amount that they'd like to invest."
Being priced out of the housing market is a frustration shared by many young adult Canadians, and one Jha has experienced firsthand. Born in India, she spent time in the U.S., the U.K., and Germany – earning her MBA at Wharton Business School along the way – before coming to Canada. At that point, she contemplated getting a house as part of her wealth-building journey.
"I'm a big saver; I always have savings. But everything was so expensive compared to how much I was making," she said. "I wasn't even sure if I wanted to buy just one house and grow roots either. But I knew I wanted to have the compounding of real estate."
Realizing that there wasn't any solution to fit her needs, she decided to develop an alternative investment model, and BuyProperly was born. As opposed to the status quo where someone may need to have hundreds of thousands of dollars to buy a single property, the platform's fractional homeownership model lets users buy a piece of a high-quality property in the location of their choice for as little as $2,500.
Operationally, Jha said, each property on the platform is owned by an individual corporation that BuyProperly creates. A user who invests in a property is given shares in the owner corporation proportional to the amount that they invest; the time horizon is five years by default, during which they can receive dividends and enjoy potential capital appreciation on their shares. Investors also have the option to exit an investment by listing their shares on BuyProperly's marketplace, much like a stock investor would be able to sell their shares on an ordinary stock exchange.
It's not just the financial barrier to property investment that BuyProperly lowers. "Owning and managing real estate is capital-intensive, time-intensive, and effort-intensive," Jha said. "If you're a regular person with a regular job, you're probably not very rich on any of those, especially if you're a millennial or Gen Z."
With the fractional homeownership model, Jha noted, investors are able to start small and spread their investment across different properties; the fact that it's online also means people aren't geographically constrained. The initial investment amount, she added, represents a more reasonable tuition for people just learning the ropes of real estate investment, particularly when they first encounter tenants not paying rent, possible legal challenges, and other difficult realities.
And because the traditional structure of property investment requires a large upfront financial commitment, it doesn't lend itself well to risk-mitigating strategies like dollar-cost averaging. But with fractional homeownership, people are able to invest in a more manageable and sustained fashion without feeling like they're being left out of the whole space.
"We know how valuable hard-earned, post-tax dollars are for regular middle-class people," Jha added. "So we're very particular about how we select the properties to bring to the platform."
BuyProperly's selection process, which has three stages, starts with an AI-driven pre-selection phase. Using an AI model that looks at 20 years of MLS data, the company looks for assets that are being listed for less than their fair market value. The fair market value of a property, Jha said, is determined from 500 million data points that include information on nearby schools, banks, and neighbourhood shops, as well as local demographic and economic data.
In the second stage, BuyProperly's investment committee takes the shortlist of prospective deals that the AI model generates and does a second layer of analysis. That involves looking at actual, up-to-date numbers and data to detect red flags – a recent environmental issue, for example – that might not have been captured in the initial data. And as a final validation step, the company does a physical inspection of the properties of interest.
From start to finish, Jha said the process allows just 1% of the deals they evaluate to make it the online platform. "Almost 40% of our investors are invested in multiple deals," she said. "There are customers who have invested close to $100k in the last year and a half with us, which they've spread out in stakes of $15k to $20k in a given property."
Compared to before the pandemic, Jha said BuyProperly's investor base has grown five times. That skyrocketing interest, she said, may be partly due to people's limited ability to actually look at houses because of COVID restrictions. To make sure users aren't investing too much for their own good, the platform also has suitability assessments and guidance checks in place, ensuring their investments are in line with their income.
And while the platform currently caters largely to self-motivated investors, the company has spoken to a lot of wealth advisors who typically don't recommend real estate to their clients; the ones that do, she said, usually focus on large real estate investments of some sort, which is a function of how advanced their clients are on their wealth journeys. With fractional homeownership, Jha argued convincingly that financial advisors would be more able to talk with younger clients about the benefits of real estate investment.
"There's research to show that for the same level of risk, a portfolio that includes alternative assets, such as real estate, can get better annualized returns relative to a stock-bond portfolio. And so advisors should be talking about it," Jha said. "And while some young people might not understand much about mutual funds or the bond and equity split, I think somehow everybody understands real estate, and it's something they'll be more excited about."